Category Name - Exide Batteries
23 Dec 2019
11 Car maintenance tips to extend the life of your prized Maruti 800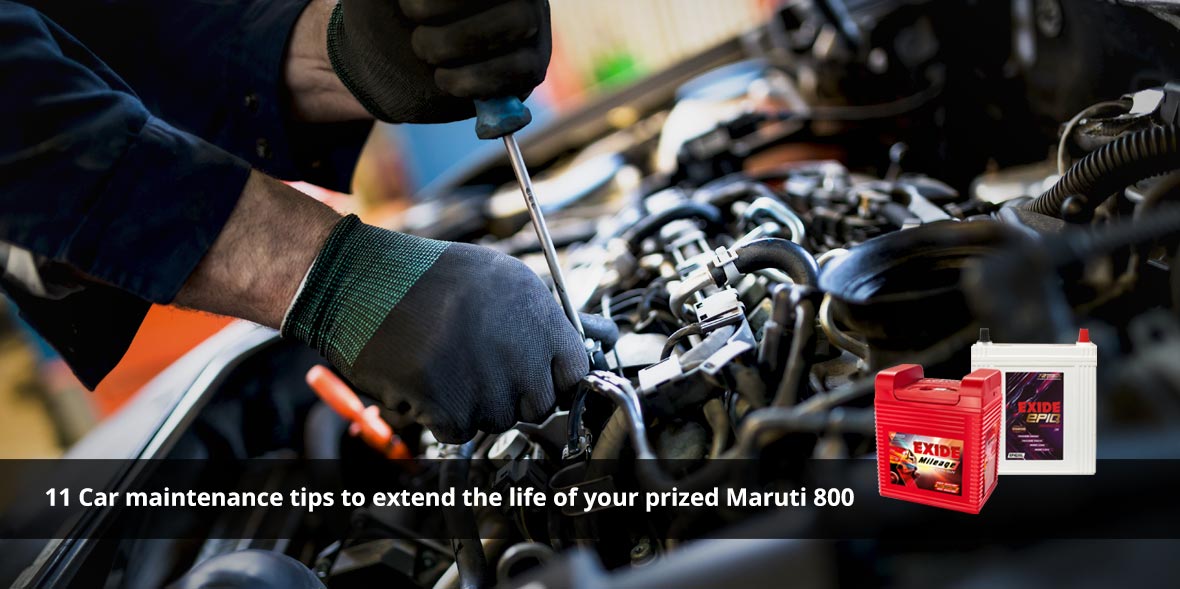 Maruti 800 - the car of the 80s and the 90s, was a car meant for everyone. Its production might have stopped a long time back, but the car still remains a classic. Since the affordability made Maruti 800 a hit with the first-time vehicle owners, a lot of them still retain the model for sheer nostalgia. However, being an old model, the vehicle might need quite a bit of maintenance.
If you own a Maruti 800 model, here are a few maintenance tips that can help you extend its life:
Keep the engine tuned with clean spark plugs and air filter elements.
Maintain optimum tire pressure for safe and comfortable rides. Keep checking the tire inflation even if the car isn't frequently used.
Drive with care - Avoid rash driving and sudden gear shifts while driving. Try not to race your car's engine while starting it up.
Store the vehicle in a covered parking space for optimum protection.
Change engine oils periodically to do away with abrasive dirt or metal particles.
Keep the interiors clean as well. You can do it yourself with vacuum cleaners, floor mats, renewed seat upholstery, proper window seals and more.
Clean the battery terminals to prevent corrosion, reinstall cables and ensure the electrical connections are arranged properly.
Buy your replacement Maruti 800 car battery from Exide Care for assured performance
To keep riding smoothly every time you take the car out on roads, keep servicing your Maruti 800 from time to time. Apart from DIY maintenance, your car would need some expert attention as well, especially if it ages.
Keep a track of the replacements done, so you know around which time the next substitute is to be expected. Experienced technicians at servicing centres can guide you about the approximate longevity of the car parts.
Make note of the Exide Battery Emergency Helpline - 1800-103-5454. Dubbed as Exide Batmobile, the service can offer reliable on-road assistance for batteries during unexpected car breakdowns. The best part is that, it is available across 90 locations in India and can be availed by you whether you chose to buy Maruti 800 car battery from Exide or not.
Several reasons can be cited to explain why Exide batteries can be the best battery solution for your Maruti 800. Besides being a renowned manufacturer and offering variety of battery options for almost all cars available in the market, Exide also assures you of its product quality with the warranty coverage that comes along with the product. Also, since it provides the convenience of ordering online, the brand can turn your battery buying experience hassle-free with free doorstep delivery and installation.