Category Name - Exide Batteries
30 Apr 2020
'Click to buy' your Honda City car battery online from Exide Care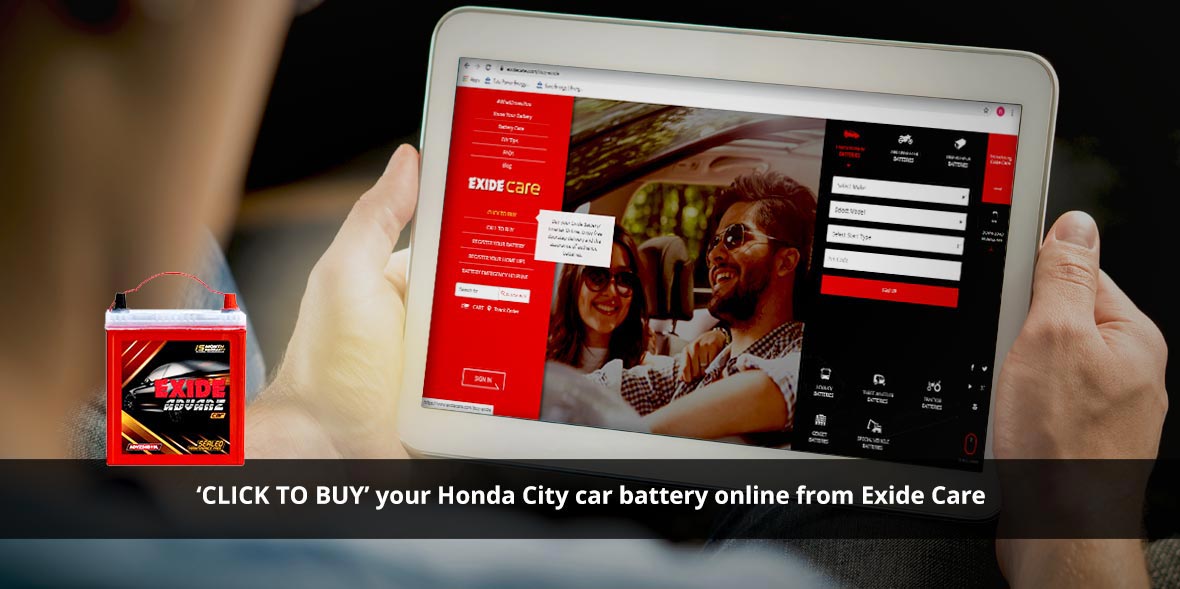 Honda City, one of the most classy and admired sedans, is currently in its seventh generation production, following multiple transformation over the years ever since its launch. Surviving for nearly 40 years, the sub-compact sedan is one of the highest selling models for the Japanese auto manufacturer Honda.
If you own one, you'll probably be needing batteries for your Honda City sooner or later. Delivering on the promise of quality and performance, Exide batteries can be the best fit for your Honda City car. Given that you're comfortable scanning the web, you can place your order at the battery manufacturer's E-shop portal - www.exidecare.com
To simplify your purchase experience, here's a gist of how the 'Click to Buy' function on the website works:
Authorised brand dealers upload respective stock details on the website for you to purchase
After you 'Click to Buy', you will need to select on the 'Car/SUV/MUV' option to search for your Honda City car battery online
Select the make, model and start type for your car, and enter your area PIN code for a readily available battery.
The search results will include the battery options suitable for your specific four-wheeler along with their warranty details and MRP
You can compare the products based on their specs, warranty and price before taking your pick and confirming your contact information
To ensure prompt delivery, your order is placed with the nearest dealer or sub-dealer who has the stock available for your selection
The dealer accepts your order.
Dealer connects with you over call to confirm your order details, requirement, pricing, payment terms, and delivery schedule.
The dealer arranges for your product dispatch along with a trained service personnel for free installation
Once delivered and the battery is fitted into your vehicle, you will receive the product invoice.
You will also get an option to leave your feedback and 'rate' the entire battery buying experience with Exide Care
So you can see, with just with a few simple clicks, the replacement battery lands up at your doorstep!
Besides placing your order for Honda City car battery online, you can also directly call at 1800-103-5454 for assistance and have our trained customer representatives guide you with your purchase.