Category Name - Exide Batteries
21 Feb 2019
How to get the best car battery online for your Hyundai i10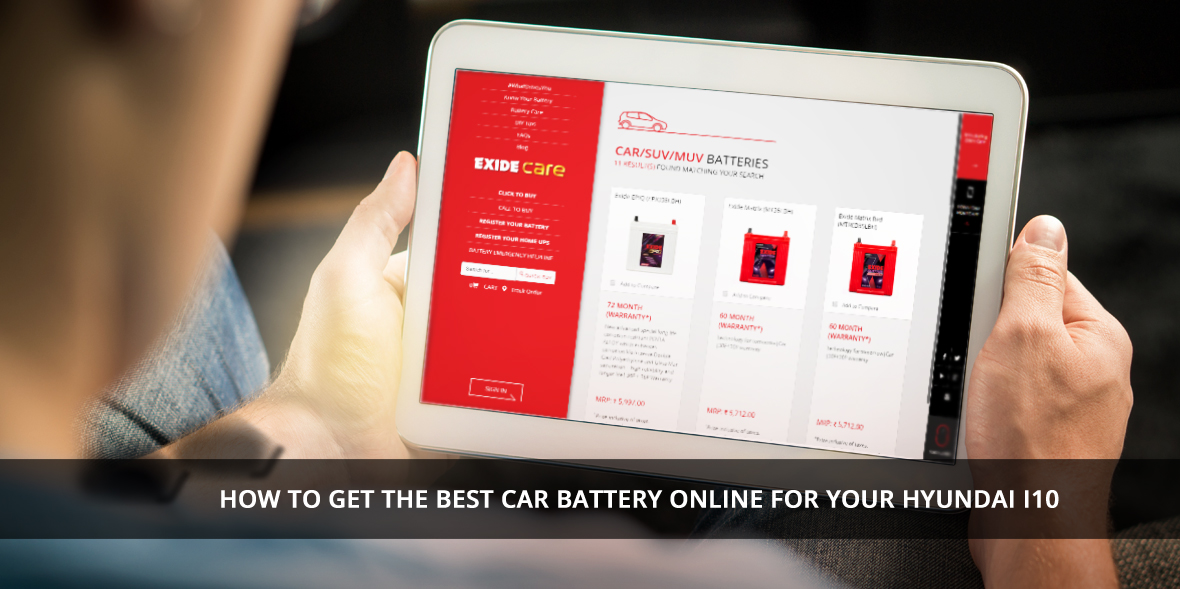 Batteries are the most underrated parts of any car, even though it's indispensable for its functioning. A typical car battery is expected to last for up to 4 or 5 years, depending on the usage. No matter how careful you are, a car battery will drain out eventually. Besides normal wear and tear, possible causes resulting in battery drainage might be that some electrical components are left functioning even after the engine is turned off. Even batteries in scarcely used automobiles lose charge over time and need to be replaced.
Every car has separate battery specifications. If you have a Hyundai i10 car, you would need to buy a compatible battery that goes with the model and not just any car battery. Exide Care Batteries offer options for a lot of automobile variants and you can buy i10 car battery online at best price from their website.

However, before you purchase a car battery online, read on to know how you can select the best one for your car as it's likely to be one of your prized possessions:
Keep the manual handy - Find your car owner's manual which could possibly be lying somewhere with your documents which you got when you first purchased your automobile. It contains all information about your car, including the battery, its dimensions and ratings. You can also find the details on the body of the existing battery, if it has not been blotted out. Get the new battery with the same specifications to maximize performance.
Check the AH rating - Try to go for a battery having a higher or equal ampere hour (AH) rating to the one which you have been using. Lower AH ratings can be problematic during cold starts and can even affect the battery life.
CCA ratings matter - The higher the CCA rating of a battery, the greater the starting power would be. So, car owners residing in regions which experience low or very low temperatures should opt for batteries with higher CCA rating.
Opt for one with good reserve capacity - Reserve capacities come in support when the alternator of the car dysfunction. It can warrant safety by ensuring the car and lamps run for an extended time.
Look for the manufacturing date - Automotive batteries are considered fresh when purchased within 6 months of manufacturing. The dates are mentioned on the packaging ideally, where you might check to know about the manufacturing details.
Exide Care offers a lot of variants for automobiles. To get your i10 car battery online at best price from Exide Care, you can opt any one from the following depending on your budget, warranty benefits and other features.
You can even chose to compare between two products on the Exide Care website and then choose one that fits your bill!