Category Name - Exide Batteries
24 Apr 2020
How to keep your Splendor Plus bike battery in good health when not in use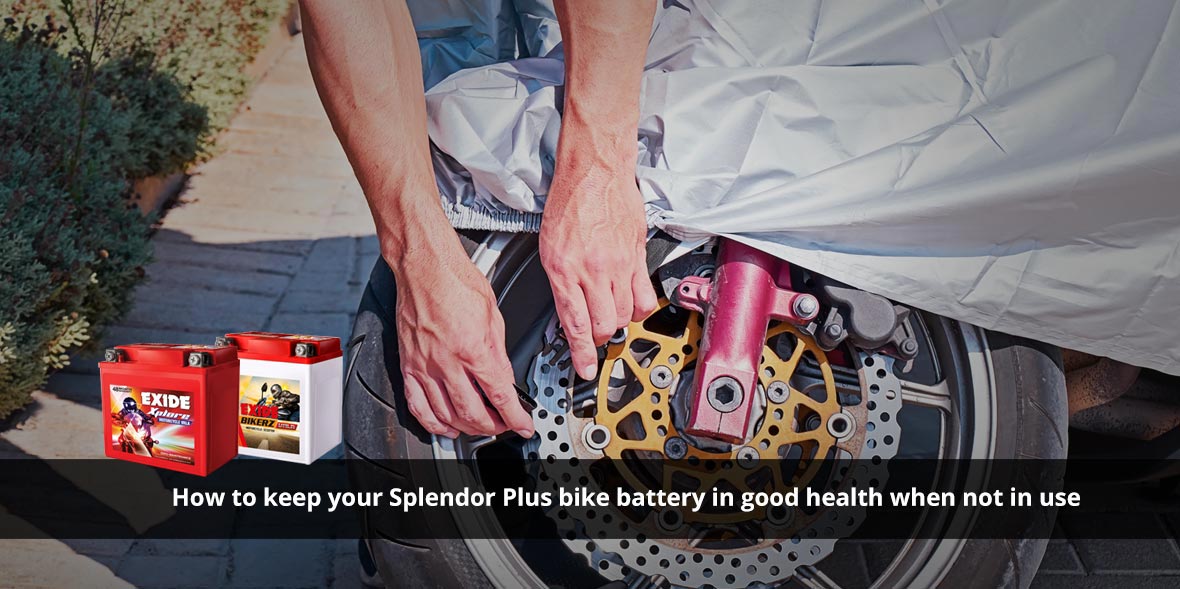 One of the main reasons why two-wheeler batteries do not last their expected lifetime is when they are left unattended for too long. It's a known fact that batteries drain over time; and like all two-wheelers, your Splendor Plus will also need to be taken out at intervals to keep its battery functional.
Good battery maintenance is exceptionally important for your two-wheeler, and here is how you can do it yourself:
Store in a cool, dry and well-ventilated place - Keeping your Splendor Plus clean and covered is advisable always. Storing it in a protected space, in closed parking or with a bike cover, not only saves the paint and the bike exteriors but also helps in preserving the battery health.

Clean it before storing - Clean your motorcycle with water and wipe it down with a dry cloth periodically to do away with the dirt. Lubricate the bike parts thoroughly before you decide to store it. Cleaning the battery terminals to prevent dirt and rust from accumulating is also recommended for durable battery performance.

Run the motorcycle at intervals - It's advisable to take out your bike for small rides to keep the battery from dying out. If you are unable to take it out for even a quick spin, try to run the motorcycle in idling condition for 5-10 minutes. Doing this at intervals and as safely as possible, will help you to keep the Splendor Plus bike battery in good health.
DIY care is important to know if you own a vehicle, whether it's a two-wheeler or a car. However, if you intend to take your Splendor Plus out after a long interval, opting for a quick servicing is wise, just for a thorough check-up of the bike to confirm about its health.
In case you need a replacement battery for a dying Splendor Plus bike battery, you can check out www.exidecare.com Exide, as a reputed battery manufacturer, has multiple battery variants available for Splendor Plus motorcycles, from which you can pick out the one best suitable for you depending on your budget, specifications, and warranty protection on offer.