Category Name - Exide Batteries
25 Feb 2020
Identify warning signs for a dead Renault Duster car battery - Get new one from Exide Care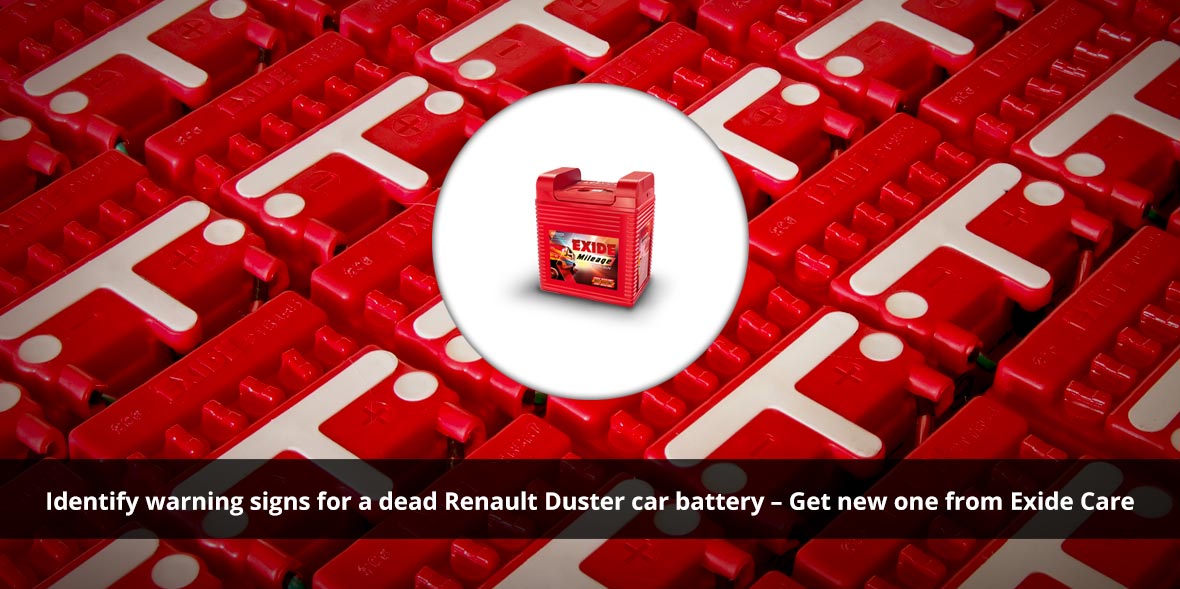 It is often said that the Renault Duster brought the SUV segment back to life in India. Brought into the country in 2012, the compact SUV and its facelifted versions continue to be a popular choice for folks who love power-led performances. Versatile enough to be driven up a steep hill and sleek enough to be admired in an urban parking lot, the car enables comfortable drives with superior mileage.
To keep your adventures unhindered with your Renault Duster, the compact SUV would also need unlimited battery power. Since it's hard to keep track of the time you have been using the battery on your car, it's fortunate that the car gives out a few warning signs for a drained battery. As identifying those can help you avoid sudden inconveniences on the road due to dead batteries, here are some pointers:
How to identify early signs of a dying battery
Slow starts - One of the telltale signs of a dying battery is a slow engine start. You can disregard it initially for a few times as it might not require immediate attention. But, it definitely indicates the time for you to start searching for a replacement battery and buy one before it's too late.
Dimmed headlights - This is another indicator for waning battery power. If the headlights on your vehicle seems dimmer than usual, it's time you take your battery for a maintenance check.  Weaker lights not only represent your battery health, but could also pose to be a safety issue. Similar erratic functioning of other electrical components in your car, like the radio, windshield wipers and such, could also be considered with the same effect.
Dashboard warnings - Most modern vehicles come with a dashboard indicator for battery strength. Keeping an eye out for the low battery signal on your car dashboard is recommended, so you can secure a replacement Renault Duster car battery in time.
Periodical Checks - Even if you are unable to keep track of the run time for your car, you might be able to strain your memory to remember when the battery was last replaced. If not, it's advisable to get your battery performance checked at regular intervals to determine its health and find out when the next battery is to be purchased.
Replacement batteries are best purchased from a reputed brand like Exide to ensure durable performance. Also, add-on benefits like warranty coverage, emergency on-road battery assistance and doorstep delivery make 'Exide buys' one of the best packaged deals for a hassle-free experience. To explore Renault Duster car battery options from the brand and place your order online, you can visit their official portal at https://www.exidecare.com.