Category Name - Exide Batteries
31 Oct 2019
Looking to buy Hero Glamour bike battery? Don't forget these 4 points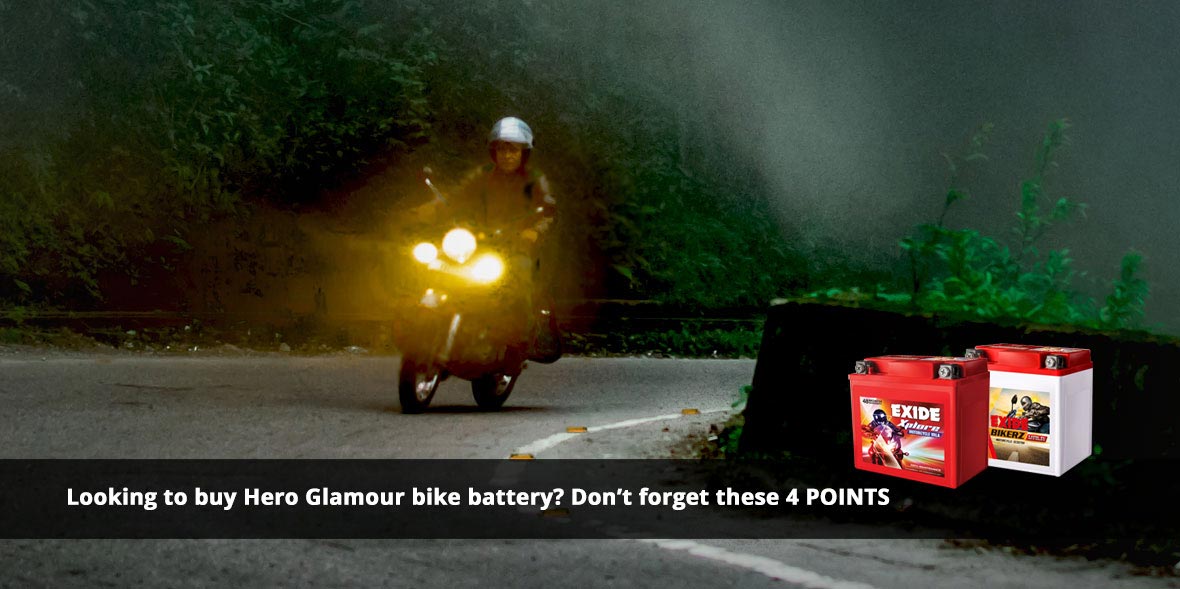 Glamour is not the only draw for the Hero Glamour bike. Sporty styling coupled with impressive performance as well as affordability makes this bike range quite a people's favourite. Hero Glamour comes in three variants - Drum, Disc and Fi IBS, all of which promises to offer fuel economy. The new Glamour features semi-digital instrument console, telescopic front suspension, hydraulic shock absorbers and a 125cc engine for a comfortable urban commuting experience. If you own a Hero Glamour bike, you know in your mind that eventually the OEM battery is going to run out. While looking for a replacement battery, here are a few points you can keep in mind.
Things to remember when you shop for Hero Glamour bike battery
Motorcycle batteries function the same way as four-wheeler batteries - they provide a burst of energy to the engine helping it to start-up, and thus requires the same amount of maintenance. However, even well-maintained batteries would need to be replaced and that is when the following instructions might be of help to you.
Check the manual - Buying Hero Glamour bike battery becomes easier if you know the battery specifications. To ensure the right battery fit for your bike, check the manual that comes along with the motorbike or the old battery to know about the type that will go with your specific vehicle.
Choose a brand you can trust - Choosing the brand is one of the most vital tasks as that would determine the quality, performance and dependability of your bike battery. Buying Hero Glamour bike battery from brands like Exide Care is recommended as that can deliver you brand assurance in the form of maintenance-free batteries and reliable after-sales service.
Pick one that comes with warranty - Warranty Coverage is another benefit that should not be ignored when selecting a new bike battery. It can offer you peace of mind and assure you of the product quality, besides being helpful during unforeseen instances or sudden battery failures.
Compare to get the best deal online - To keep up with the fast-paced urban life, shopping has been turned convenient, and the same is applicable for your battery shopping too. You can check out the variety of battery options on offer over the internet and then compare their features, pricing, benefits, reviews and more to get the right battery for your vehicle. The Exide Care website can list out all the batteries suitable for your bike model and let you compare between them, so you can buy Hero Glamour bike battery online at the best price.