Category Name - Exide Batteries
25 Sep 2019
Perks of getting your Maruti 800 car battery from Exide Care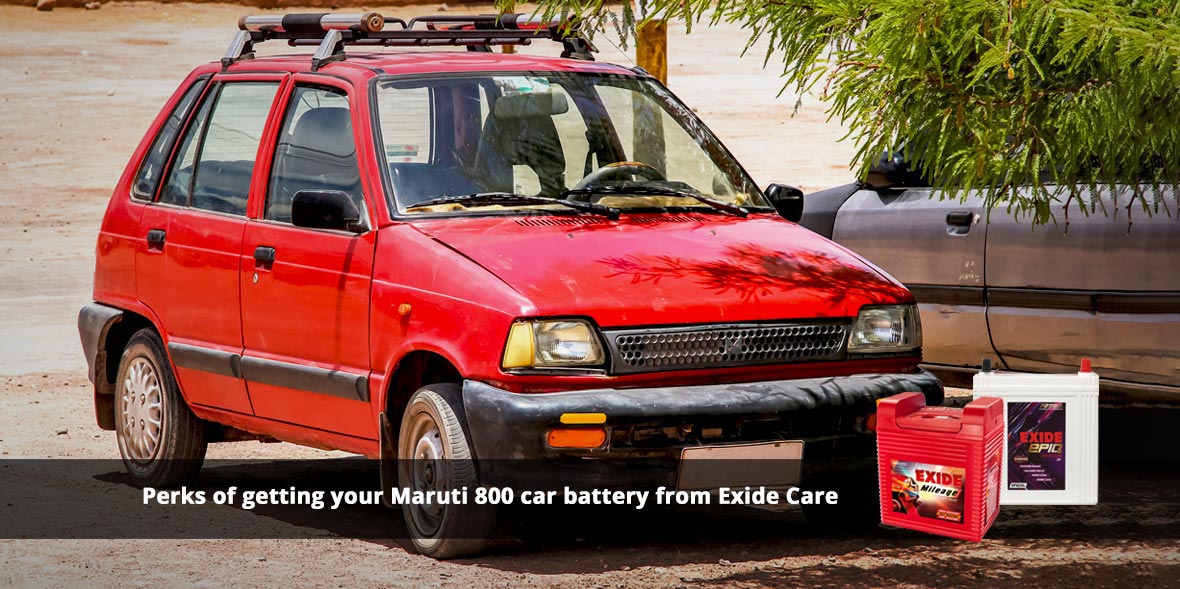 Maruti 800 is the child from an era when owning a car was a symbol of pride and achievement for the Indians. With over 31 years of production from 1983 to 2014, this automobile variant was hugely popular in the country and came to be recognized as one of the truly affordable people's cars in India.
Though the production for Maruti 800 came to a halt in 2014, the car still has a huge number of loyalists. A lot many of the owners simply keep the vehicle for nostalgia's sake or as their first car. Popularity of the four-wheeler model also made its maintenance easy and affordable, and till date, a well-maintained Maruti 800 has great resale value. Battery care is an essential part of maintenance and if you're looking for Maruti 800 car battery replacements, the Exide Care website is one stop you can check out online.
What benefits can Exide Care offer for your Maruti 800 car battery shopping?
Here are the top five reasons which can make you choose Exide batteries online for your Maruti 800:
Wide variety of batteries to choose from - Being a recognized battery manufacturer for years, Exide knows about the car owners' requirements and has multiple battery variants with specific features available. You can visit https://www.exidecare.com/ to select the make and model of your car and then check out all the battery options available with the brand, before picking the right fit for your Maruti 800.
Brand assurance - Exide has both national and international fame as a reputed power storage solution provider, which has been earned over years with quality performance, delivery promises, trust and reliability. So once you opt for an Exide battery, you can be assured of its performance and Exide support services.
Warranty coverage - Additionally, to cover technical glitches (if any), Exide offers warranty protection that enlists the total number of months covered by the free replacement period and the Pro-Rata period for batteries. Each individual battery from Exide comes with warranty assurances varying from 6 to 48 months or more. With advantages of their services being offered online, you can even register your battery on their website to access your battery details from anywhere.
Hassle-free experience - Starting from battery selection to purchase, warranty registration and more, Exide tries to make the entire battery buying experience smooth for the buyers. https://www.exidecare.com/ makes locating nearby stores and dealers easy and can also offer you maintenance and DIY tips to ensure your battery is taken care of, so that you enjoy hassle-free rides with your vehicle.
Doorstep delivery and installation - Online purchase of your Maruti 800 car battery from the Exide Care website can not only help you avoid the trouble of scouting dealer or retailer stores for the right battery, but also offer the benefit of free battery delivery to your doorstep and its installation at your convenience.

Apart from the perks mentioned above, Exide also offers emergency on-road assistance in case of a car battery breakdown, irrespective of cars using Exide batteries or any other make of batteries. The free service, termed as Exide Batmobile, can be of use if your Maruti 800 gets stuck in the middle of your journey due to battery issues.