Category Name - Exide Batteries
31 Jan 2020
Pick Exide batteries over other brands for your Hero Passion Pro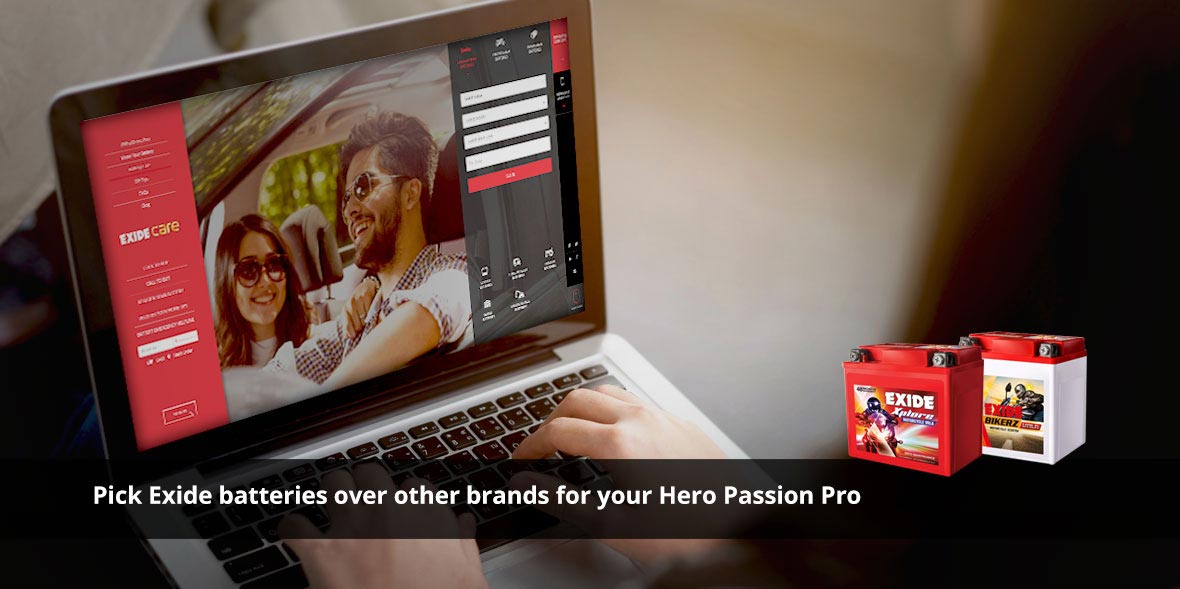 Enriched with Hero's patent Idle Stop-Start System (i3S) technology, the Hero Passion Pro is ideal for city rides. The Indian motorcycle and scooter manufacturer Hero MotoCorp came up with i3S to improve the mileage of its products under the Indian Riding Conditions, which not only saves fuel but also offers convenience to the commuters to bear with urban traffic. Besides powered by a 97cc engine, the bike features air-cooled, 4-stroke single cylinder OHC along with a 4-speed gear box, and is available in eight attractive colours which make it a prime choice for the daily commuters. The brand also offers two other upgraded versions in the same range - Passion Pro 110 and Passion X Pro, both of which have faster 110cc engine along with the Integrated Braking System (IBS) for additional safety.
During the course of its life, any Hero Passion Pro bike would need its battery to be replaced multiple times, to help you keep up with the pace of city life. Here are 10 prime reasons why Passion Pro bike battery from Exide can be favoured as your replacement battery over other brands:
Affordability
Durable performance
Variety of battery options to choose from
Brand Trust
Online ordering on Exide Care - https://www.exidecare.com
Free doorstep delivery and installation
Warranty Coverage
Extensive Network for domestic and international customer satisfaction
Hassle-free battery registration
Freshly manufactured products ensuring quality
Ordering for a battery on the Exide Care portal is simple and time-saving. You can access the website from any mobile device, laptop or PC and then 'Click to Buy' the battery suitable for your ride. Simply choose the make, model and start type for your two-wheeler and then type in your Pin Code to check the availability of the battery variants befitting your bike model. You can even check details of each individual battery and then compare two or more of the available options online to determine which one is best suited for your budget, warranty requirement etc.
Besides ordering a new Passion Pro bike battery online through Exide Care, you can also order one over call at 1800-103-5454. Qualified representatives will guide through the entire buying process which can help you avoid the trouble of locating and visiting a retailer for battery purchase and then lugging the heavy batteries home for installation.