Category Name - Exide Batteries
24 Apr 2019
Reasons to buy Exide Care batteries online for your Hero HF Deluxe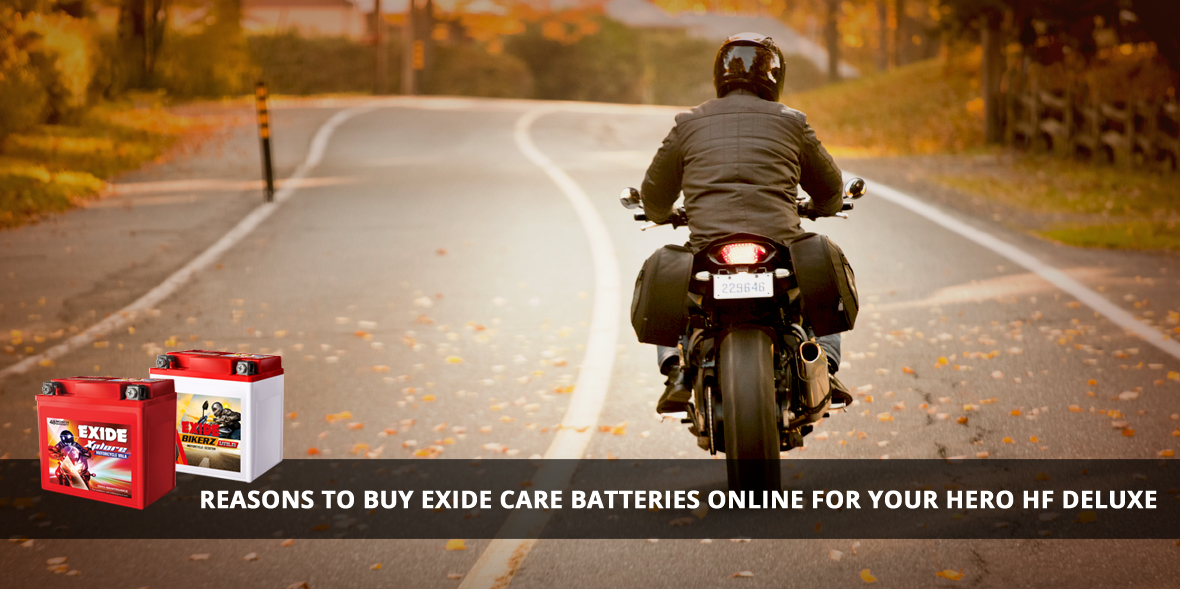 Hero HF Deluxe is a bike for everyday commute. Recognised as one of the best 100cc bikes available in India, this one delivers a smooth ride and is an amalgamation of stylish looks and efficiency. It was initially launched as Hero CD Deluxe and was rebranded as Hero HF Deluxe after Hero ended its joint venture with Honda in 2010.
The 2017 model of Hero HF Deluxe features a BS4 compliant engine, always-on headlamps and Hero's i3S start-stop technology that boosts mileage offered by the bike.
Recently in 2019, Hero has launched the HF Deluxe IBS i3S where IBS stands for Integrated Braking System, the term coined by Hero for its Combined Braking System (CBS). This integration makes the Hero HF Deluxe compliant with the new safety regulations that made CBS binding for all two-wheelers under 125cc from April, 2019.
As for the batteries for Hero HF Deluxe bikes, you can always rely on a brand like Exide Care for optimum performance. However, battery performance depends on a lot of factors as well as maintenance. In case the battery on your HF Deluxe bike dries up for good and you need a new one, you can visit Exide Care retail outlets to check out the options available for your vehicle. You can also buy HF Deluxe bike battery online at best price from https://www.exidecare.com for the following reasons:
Wide variety of battery options to compare
Quality and reliability
Paperless warranty coverage
Doorstep delivery
Free installation by certified technicians
Genuine and freshly charged products
Online registration offering convenience and hassle-free service
Excellent buyback opportunities for old batteries
Besides allowing you options to buy HF Deluxe bike battery online at best price, the Exide Care website can also offer you useful tips for battery maintenance, a guide for battery care and similar useful information in the form of Frequently Asked Questions (FAQs). These can help you take care of your Hero HF Deluxe bike as well as its battery during regular use, so you don't need to be perplexed or call for special assistance every time your bike doesn't function as intended.