Category Name - Exide Batteries
21 Jun 2019
Signs you probably need a new car battery from Exide Care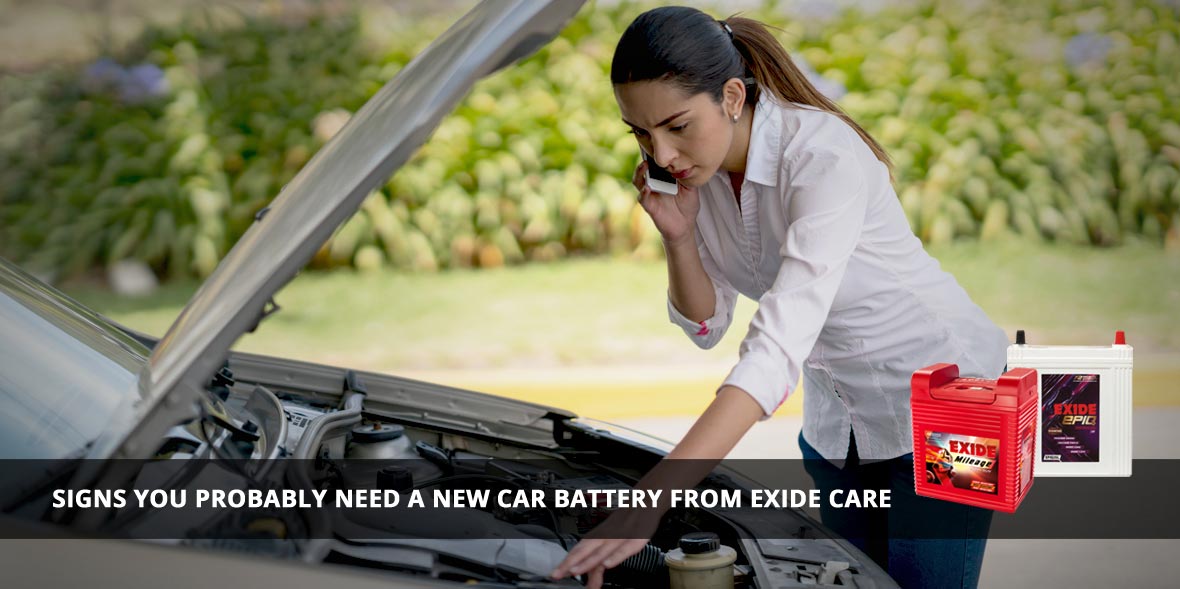 The battery is almost literally the heart of your car. Not only is it essential for the engine to start, the battery also backs all the electrical components in your car.
Old batteries can have multiple safety and reliability issues, and it's advisable not to wait till the last breath of the battery in order to make a new purchase. Here are some pointers which can help you determine the right time to get a new car battery, so you're not in a hurry and can explore options to buy car battery online at best price:
Dimmed lights - The battery powers all of the electronics in your vehicle, starting from the lights to heater, radio, air-conditioning, phone charger and more. A dying battery or a battery losing its charge will result in reduced performance for these in-built accessories and equipment. So, the next time you see dimmed lights, you definitely need to check on the battery first as it might be time to buy a car battery online.
Slow starts - Battery components wear out over time and gradually it starts losing its power. The older the battery, the longer it might take to create a charge for the starter, which means you might need a few extra seconds for the engine to take a run. Slow starts are indicators for the first stage of a stuttering battery.
Corroded connectors - Presence of a white, ashy covering on the positive and negative metal terminals of your battery might indicate a corrosion issue. Corroded battery terminals can result in battery malfunctioning or voltage fluctuations, thereby hampering your smooth drives.
Out-of-shape cases - Deformed battery cases are indicators for trouble. Cold or heat exposure, either caused by malfunctioning or weather conditions, can result in swell and cracks on the battery case and can affect its shape. So, once you see a misshapen battery case, it's time to take your car for a prompt mechanical check.
When you're trying to buy a new car battery, it's advisable to buy it from a reputed battery manufacturer like Exide for the sake of brand assurance and guaranteed quality. You can buy car battery online at best price from the Exide Care website after comparing the battery variants, specific features and pricing.
Another advantage of buying car batteries from Exide Care is the hassle-free warranty offering. Besides the quality assurance that comes unsaid with warranty coverage, Exide also makes life easier for its customers with online warranty registration. A few simple steps and then, you can access your battery and warranty details anytime, anywhere!