Category Name - Exide Batteries
27 Mar 2020
Why to buy Hero Hunk bike batteries online from Exide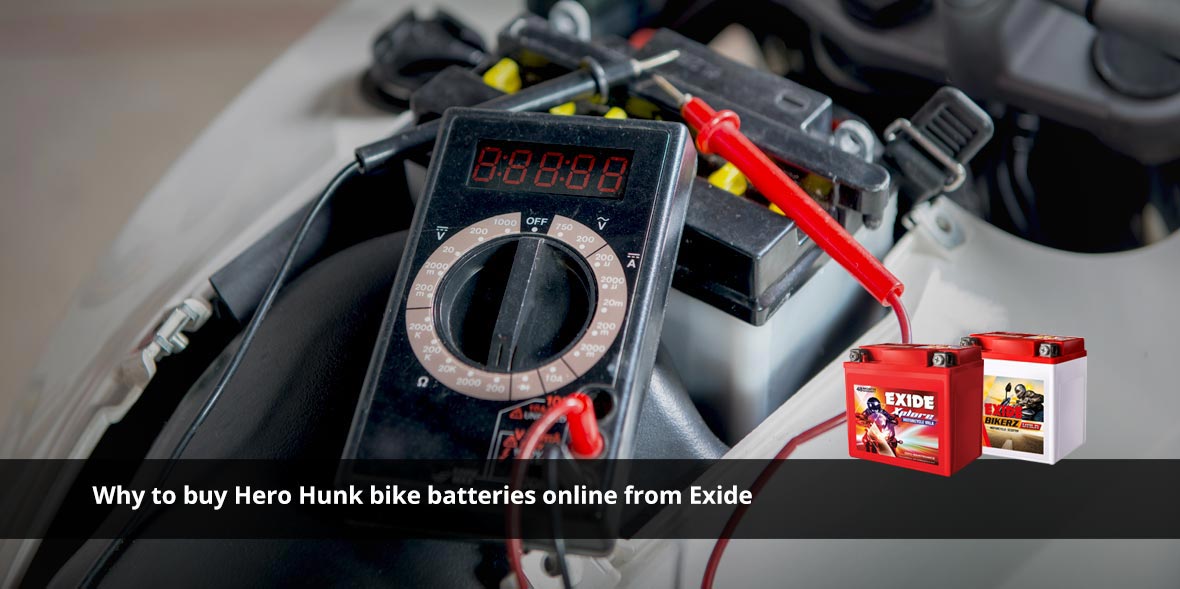 Recognised as a powerful 150cc bike, the Hero Hunk has a rather sporty look that makes it a hit with the youngsters. Considering Indian road conditions, your Hero Hunk bike would require a dependable power supply and thus the need for a quality two-wheeler battery is undeniable.
Here's why Exide batteries can be the best solution to meet your bike's power needs:
Excellent cranking performance
High reliability for longer life
Designed with the latest VRLA and Calcium Effects Technology for maintenance-free experience
Factory charged and promises improved shelf life
Leak-proof and non-spillable which is helpful for transit and service
Vibration resistant for smooth riding comfort
Can be ordered online or over a call while you're on-the-go
Paperless warranty
Exide has the widest network of dealers in the country, offering genuine products at the remotest of places. It also offers a variety of battery options for two-wheelers which is accompanied with brand assurance in the form of warranty coverage.
Ordering your Hero Hunk bike battery online at their brand website can save you both time and effort as Exide offers the convenience of free home delivery and installation by an Exide service personnel for their product. Additionally, you can avoid the hassle of manually scouring the stores for the right battery option as you can check out the variety offered by the brand at https://www.exidecare.com/ and compare them to select the best one depending on the battery features, affordability, warranty duration and more.
Additionally, the paperless warranty option that comes along with Exide batteries can be a major draw for the brand, if you consider to buy Hero Hunk bike battery online. You'll be able to view your battery and warranty details from anywhere, at any time, following a few simple steps for online registration of battery which further makes it easy to utilise the coverage benefits at odd places or hours.
Exide also collects used batteries from customers and dealers to ensure their proper disposal. Being a customer oriented brand with sustainable intentions, Exide transports the old batteries for recycling by authorised smelters. This, not only prevents environmental pollution, but also protects the future generation from the hazardous effects of lead poisoning. To enquire about safe battery disposal, you can contact your nearest dealer or call Toll Free No. 1800-103-5454 for assistance.