Category Name - Exide Batteries
26 Nov 2019
Handy tips for Bajaj Avenger bike battery upkeep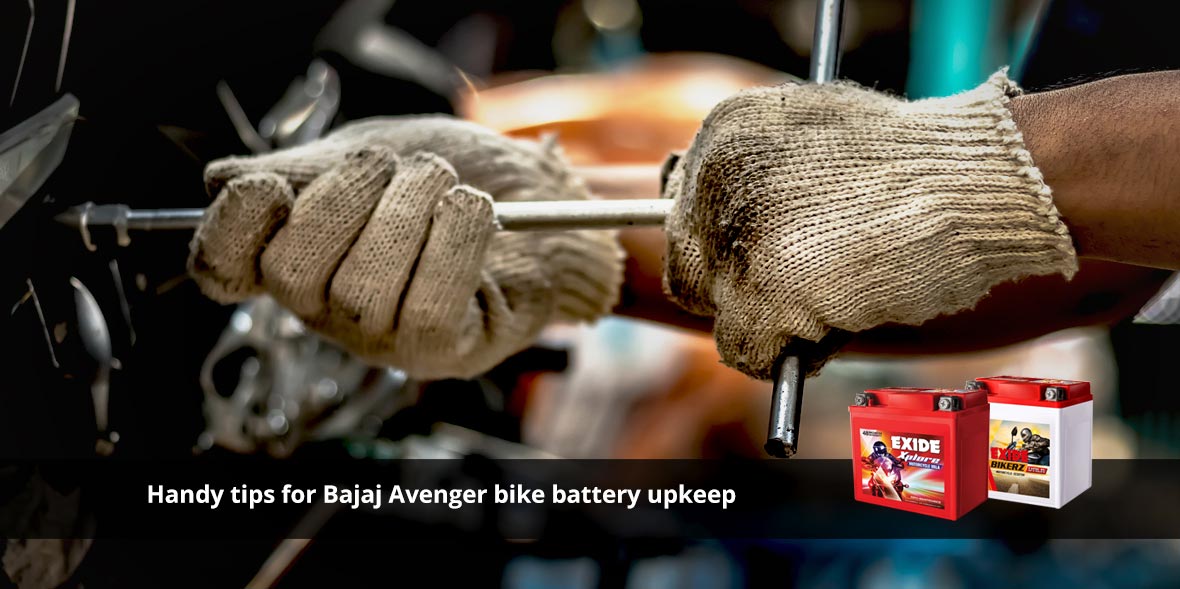 Initially launched in 2005 with an 180cc engine, the Bajaj Avenger was a cruiser styled two-wheeler, which was also the first of its kind manufactured by an Indian company. Later in 2007, the Avenger was upgraded to a 200 cc model and in 2010, Bajaj launched a 220 cc version as well. The second generation Avengers got an entirely new makeover with paint jobs, alloy wheels and more, when launched in 2015 in two different variants - Street and Cruise. The current third generation bikes got introduced in 2018 and are available as Avenger Cruise 220, Avenger Street 220 and Avenger Street 180.
Powerful engine, economical performance, low hung seating, high ground clearance and stylish yet rugged looks at affordable pricing make the Avenger series from Bajaj quite a hit with the youth. Bikes from this range also offer more torque than its competitors, along with decent mileage and fuel efficiency on road which makes the series popular among those looking for old-school cruisers.
Now whether you are using a second-gen Street 150cc or the latest Cruise 220, the battery for your Avenger needs to be reliable for long-distance rides. To ensure your Bajaj Avenger bike battery doesn't falter on the road, regular maintenance is of utmost importance. Here are a few handy tips for battery care and maintenance that you can take note of:
Keep your bike covered - Try to store your Bajaj Avenger in an airy yet covered space to ensure it stays protected against harsh weathers and extreme temperatures. Even during your daily commute, try looking for a covered parking space or one with a shade to make sure your Bajaj Avenger bike battery lasts longer.
Grease the battery terminals - Clean the exterior parts of the battery prior to installation and at intervals to ensure smooth performance. Battery terminals should also be cleaned at intervals to avert accumulation of dirt and checked for leaks. Greased terminals help to prevent corrosion which can affect the starting of the two-wheeler.
Check the connections - Loose connections can affect your bike performance. It's advisable to check the electricals and wiring connections after every battery installation to ensure uninterrupted performance.
Charge at regular intervals - Even maintenance-free batteries lose charge with time. If unused for a long period, all batteries, standard or maintenance-free, need to be adequately charged using suitable battery chargers. It's advisable to take your bike to a nearby service centre for the purpose in order to keep your Bajaj Avenger bike battery in good condition.
Use only compatible batteries - Replacement batteries should always be carefully chosen and installed. Check the manual that came along with your Bajaj Avenger to ensure your replacement battery is of the right fit, dimension and type. Also, even if you're able to do it yourself, it's always recommended to get the battery installed by a technician to avoid any misses.
Exide Care offers a variety of battery options for two-wheelers from which you can pick the right fit for your bike model. Besides offering the convenience of online purchase at https://www.exidecare.com, the brand also offers free home delivery and installation for the batteries which can turn your Bajaj Avenger bike battery buying experience hassle-free.