Category Name - Exide Batteries
22 Mar 2019
What makes Hero Glamour bike ideal for commute?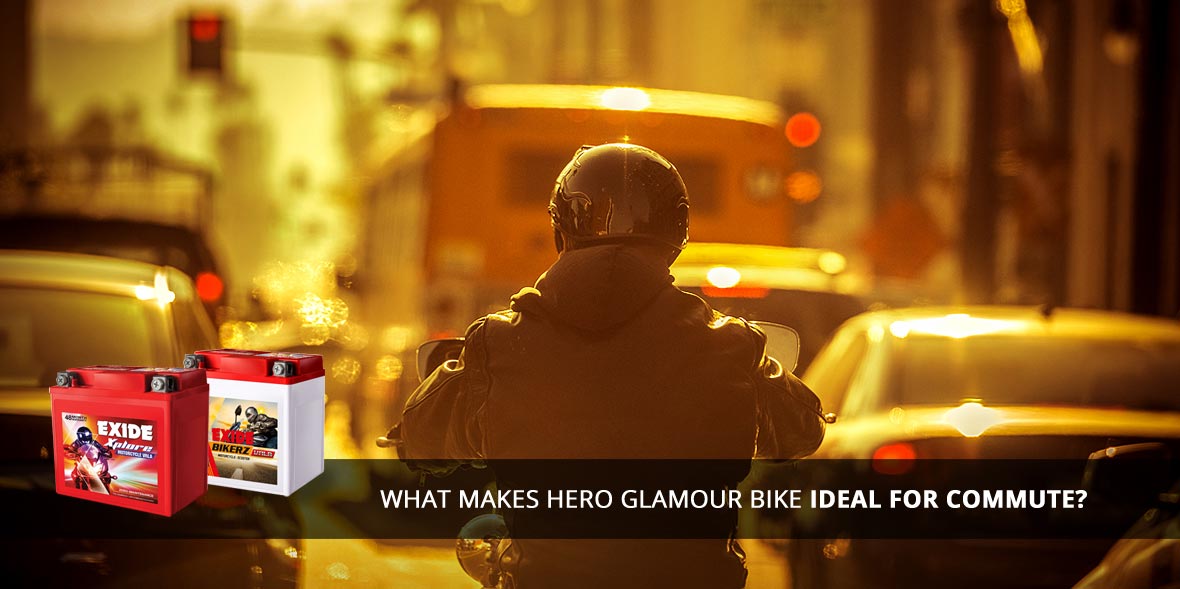 Bikes are love, period. The thrill of bikes is unanimously agreed upon by those who love two-wheeled rides. Sure, it might not offer the comfort that a four-wheeler can deliver and you might need to give up on the luxuries of AC, laid-back seats, built-in music system and more. But once you start cruising through the wind on your bike, and start loving it, there wouldn't be any complaints.
Hero Glamour bikes are no exception, which is evident from its steady climb in popularity. It went on to become the first fuel-injected motorcycle in India and eventually had a lot of tweaks in the latest models - evidently positive ones. The 2017 model delivers powered performance with 124.7cc engine and also scores well on refinement and rideability. The fuel injected engine can assure a smoother torque curve as compared to its previous version. Sporty look, digital display, horizontally mounted engine, tubeless tyres are the other features which make the updated model more 'Glamour'-ous and a popular ride for commute.
To sum it up, let's also look at the pointers on what makes motorbikes a preferred ride to cars:
Less traffic trouble - Bikes make it easier to navigate on road. Be it through crowds or through traffic jams, you can move around with your Hero Glamour bike and save time spent on traveling. Also, two-wheelers can comfortably pass inside narrow lanes and by-lanes where bigger vehicles might not be able to pass through.
Easy parking - Bike parking zones are easier to find which adds to the convenience of owning a Hero Glamour. With the scarcity of parking spaces around, especially in the busy cities, this is a huge plus whether you're trying to make a short stop along the way or settling in for the night.
Less on pocket - Unless you're looking to buy high-end models, bikes come pretty cheap - at a lot less than four-wheeler vehicles. It's also cheaper to own and maintain a bike when it comes to servicing charges or insurance. As for the battery for your Hero Glamour bike, you can always trust on Exide Care as it is one of the leading battery manufacturers in the country. To add to your convenience, the Exide Care website lets you buy Hero Glamour bike battery online at best price.
Online purchasing of batteries for your beloved Hero Glamour can help you as the website displays a huge array of battery types. It can let you compare battery specifications, warranty offers and price to ensure you buy Hero Glamour bike battery online at best price. Other benefits of making the online battery purchase is that Exide Care offers door-step delivery, free installation, emergency assistance, paperless warranty and more.
Fuel economy - With rising fuel prices, this is something not to be taken too lightly. Bikes provide better mileage than four-wheelers owing to the smaller size, lighter weight and less passenger count, which stands true for Hero Glamour bikes as well.
Best for environment lovers - Bikes can lend a sense of freedom. Biking enthusiasts can feel in touch with the nature and the road, which makes the travelling on Hero Glamour a lot more fun than behind the confined space of a car.
Experience - Biking is an experience to look forward to, which is the reason why we have biking groups and clubs for the enthusiasts. The thrill, the speed, the throttle sound, the vibration and more, can make the entire journey memorable - and this will be agreed upon by all who love their two-wheeled rides.