Category Name - Exide Batteries
06 Jun 2019
4 Must-Dos before you try buying a battery for your Hyundai i10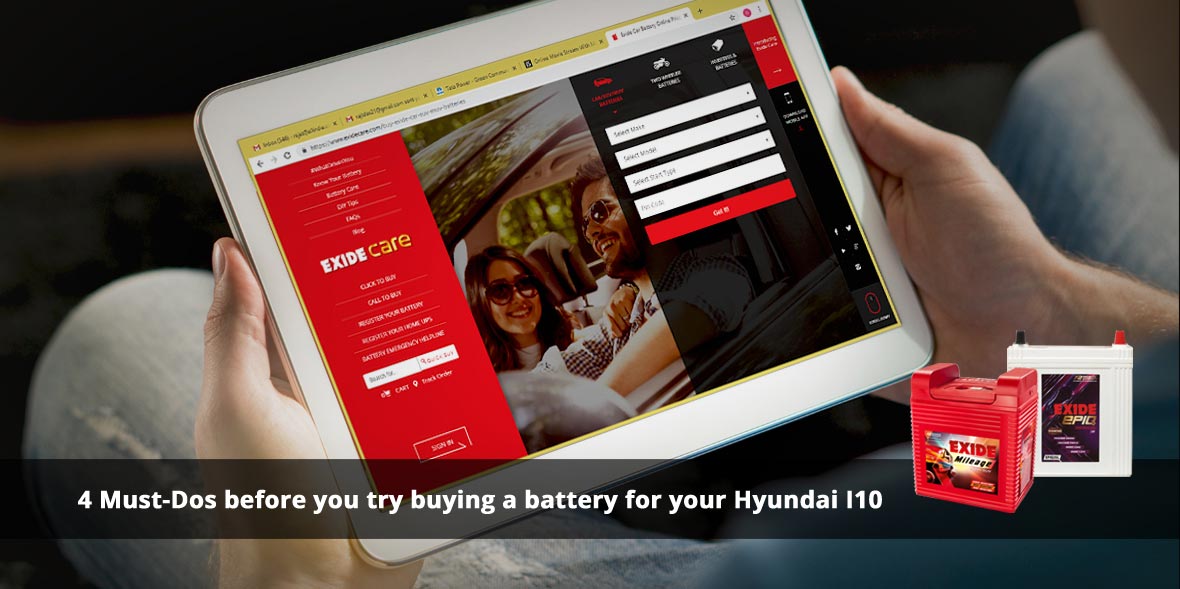 Batteries are the powerhouse of any automobile, whether it's a two-wheeler or a four-wheeler. So what do you do when you realise that the battery of your favorite Hyundai i10 is stuttering? You try to find a replacement for the battery - so your daily commute doesn't come to a halt. In other words, you try to purchase a new one.
The Hyundai i10 is a city-friendly hatch, and has been topping the sales charts for Hyundai owing to its popularity. The car is an easy-to-drive option and a good buy for new car owners for its light steering-light clutch combo. Also, the engine for Hyundai i10 is refined, silent and adequately powerful. However, before making a battery purchase for your Hyundai i10, we suggest you take note of the following pointers, so you don't end up buying something and regretting it later:
Look for the specifications - Every car model is unique and has its own specifications. To ensure best performance of a vehicle, it's necessary that it has the right battery for powering the engine. Usually the car owner's manual has all the battery details enlisted, including its dimensions, ratings and more. You can also seek help from a qualified professional or check the old battery tag to ensure that the next battery you purchase is the right one for your Hyundai i10 model.
Check for the warranty - Warranty can offer you peace of mind, and assure you about the product quality. Always look for a warranty when you're trying to make a battery purchase for your vehicle, so you can get a quick replacement in case the battery doesn't function as intended, any time within the warranty period.
Try to buy it online - Buying a car battery online is one of the best decisions you can make. Not only does it offer you the convenience of checking out all suitable options from the comfort of your home or office, it also lets you compare those variants so you can select the most suited one at the best price. Exide Care website can let you place two or more battery side-by-side so you understand the special features and differences and then take an informed decision. For instance, if you're looking to buy a Hyundai i10 battery online, you can choose between Exide EPIQ, Exide Matrix, Exide Mileage, Exide EEZY or Exide Advanz, as each of them come with a different set of features or benefits.
Buy batteries from a reputed brand - Non-branded batteries might help you save a bit when you're trying to make a new battery purchase, but it might prove costlier in the long run. Reputed brands keep the quality in mind when manufacturing the batteries, ensuring those meet the vehicle specifications and can deliver best performance for a longer period of time. Being a market leader, Exide can offer a wide range of affordable options when it comes to automobile batteries, whether you're looking for a Hyundai i10 battery online or for your Volkswagen Vento.
Making a purchase on the Exide care website is hassle-free! You just visit their website at https://www.exidecare.com, select the 'Click to buy' option, fill in the details of your vehicle like the make, model and fuel type, and then click on the 'Get It!' button to search for the battery options available for your Hyundai i10. Besides the convenience of getting everything done online - like comparing between the variants, making payment, warranty registration and more, you can also benefit from their doorstep delivery service and free installation!