Category Name - Exide Batteries
28 May 2020
4 tips to get the most of your i20 car battery before you buy a new one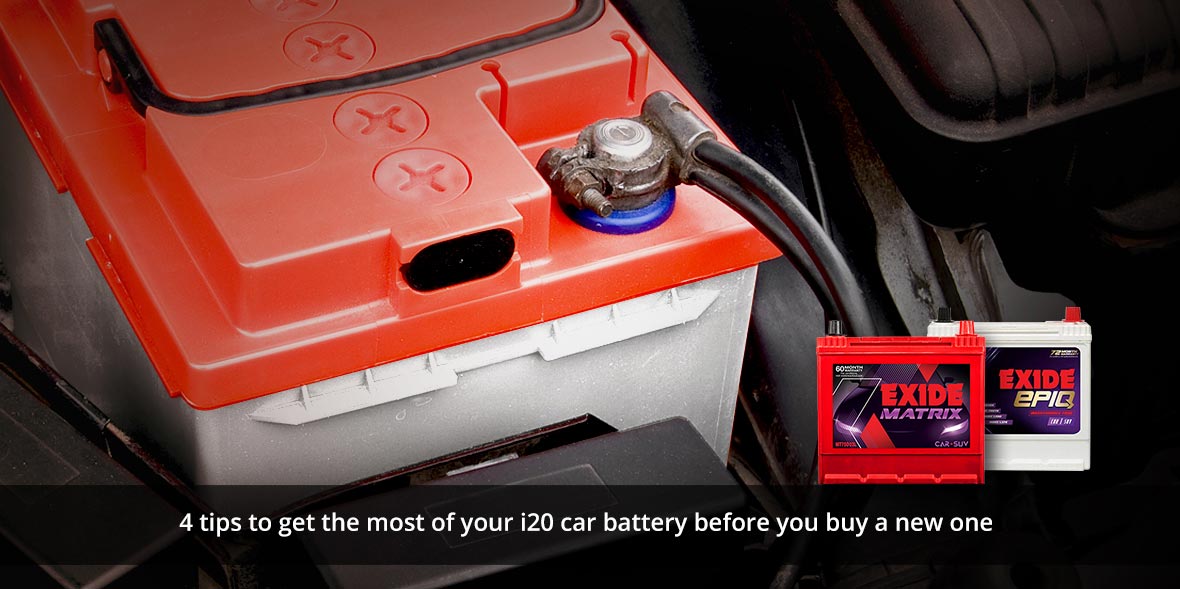 Car batteries require maintenance for prolonged performance and an i20 car battery is no exception. With new features being added every day, the four-wheelers nowadays have more electrical demands than before, and the batteries mostly have to bear the load. A little maintenance by yourself can help extend the battery life of your i20 car and here's how you can go about it:
Clean the battery - Ensure the battery top is kept clean, dry and free of grime. Accumulation of dirt or corrosion near the battery terminals can hamper its performance. Corrosion near the terminals create high resistance that can reduce the charge flow or cause terminal heating. Periodic cleaning of the terminals is thus advised to avoid performance issues.
Get it checked - Check the battery positioning, especially during installation and also regularly, to make sure it is firmly placed and secured to the cradle. Also, the cable clamps, lead wire contact, the regulator voltage setting should be monitored at intervals to ensure everything is in place. If you're not too confident about these, it's advisable to get battery installation and periodical checks done by an experienced technician.
Keep a track of how long it has been used - Eventually, all batteries drain out and you'll need to check out market options to buy an i20 car battery. Sealed and maintenance free batteries usually have an indicator which offers a gist of the battery conditions, indicating whether it needs to be charged or should be replaced. If you have been using the battery for too long, the flickering headlights would themselves point out the need for a replacement battery.
Disconnect the terminals when not in use - For seasonal or long-term storage when you might not be using your i20 car, batteries need to be fully recharged before you lock the car away. For additional protection and to minimise discharge, it's advisable to disconnect the battery terminals as well. Also, before reconnecting, it's recommended that you check the battery fully to ensure optimum performance.
After the OEM battery drains out, you can trust on Exide for all your car replacement batteries. Once you buy an i20 car battery online from Exide, you can avail the installation services and doorstep delivery facilities offered by the brand at no extra cost. Exide sends in qualified technicians at a location of your choice to help you with the battery installation and relevant service checks. So, besides the assurance of brand quality, durability and performance, Exide batteries can also promise you convenience, for a hassle-free battery buying experience.