Category Name - Exide Batteries
25 Nov 2019
6 Prime reasons to help you pick CBZ Xtreme bike battery from Exide Care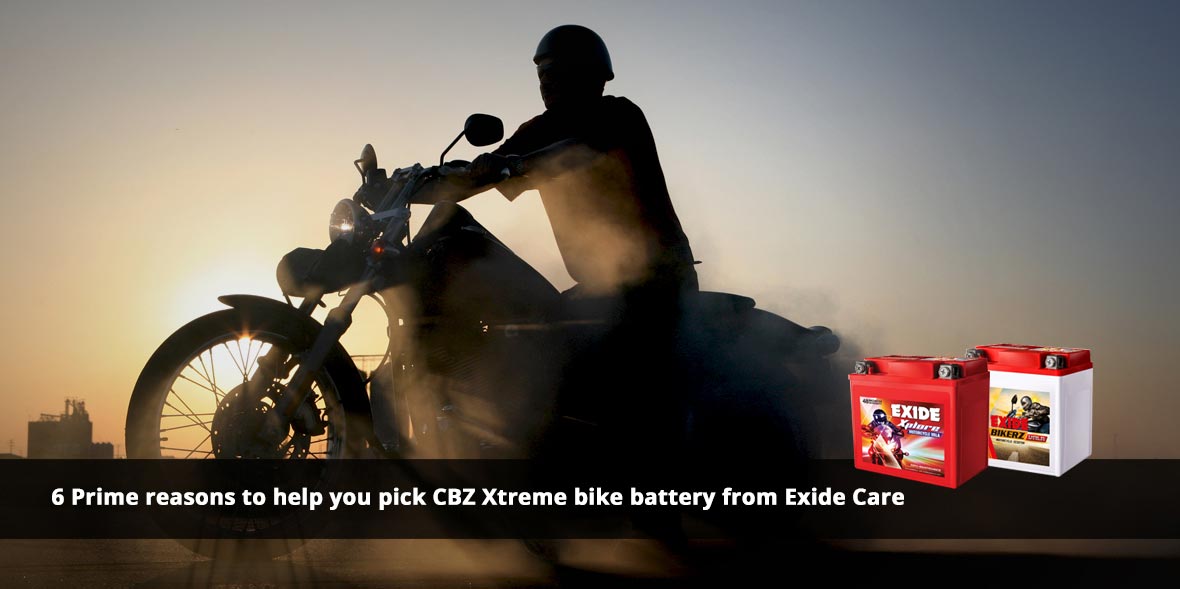 Featuring a Honda 149 cc engine and five-speed gearbox, the 2006-launched Hero Honda CBZ Xtreme was a successor to the old CBZ model. While the 1999 CBZ model was the most stunning performer of its time, the new extension also came fully-loaded with an air-cooled single cylinder, 4 stroke OHC engine, front 240 mm and rear 220 mm discs. Besides fresh headlight designs, the CBZ Xtreme has been found to deliver decent mileage and riding comfort, which in turn have made it into a favourite two-wheeler for long distance rides.
A power-packed motorbike like the Hero Honda CBZ Xtreme also needs to be supported with stable battery power. To benefit from a durable CBZ Xtreme bike battery, you can place your trust on a reputed manufacturer like Exide. Besides brand assurance that speaks volumes about the battery quality, the Exide range of batteries can also promise the following benefits:
Extensive variety - Exide batteries are made with advanced automotive technologies and designs that are made to endure the roughest of roads. The industry expert has a wide range of batteries on offer, each of which has specific features and is suited for different vehicles. Quality performance and durability of the bike batteries can make Exide a right fit for your Hero Honda CBZ Xtreme.
Online availability - You can visit the Exide Care website at https://www.exidecare.com to check out the entire range of batteries manufactured by the brand. This can help avoid the manual effort of visiting the retail stores and check for availability of suitable batteries.
Compare to pick the best - Online availability of bike batteries makes it easy to compare the features and specifications of the batteries suitable for your Hero Honda CBZ Xtreme. At https://www.exidecare.com, you can select two to three battery variants and place them side-by-side to compare and then get the best deal for your CBZ Xtreme bike battery.
Warranty coverage - All Exide batteries are accompanied with warranty protection to offer you peace of mind and a hassle-free experience when it comes to unforeseen malfunctioning or battery failures. For 36 months, 48 months or more - now you can select the warranty* coverage for your Hero Honda CBZ Xtreme bike battery to stay assured of unwavering service and assistance from the brand.
Wide network of stores and centres - Exide has carved its way to the top, and is a leader in packaged power technology. The brand has unwavering customer support and user reviews, and an even wider network of manufacturing and retail centres to cater to domestic as well as international markets.
Free doorstep delivery and installation - The best part of ordering anything online is to get the product delivered directly to your home at your convenience, and Exide batteries can offer you just that. You can simply pick your CBZ Xtreme bike battery when you're considering a replacement battery for your bike and get that delivered directly to an address of your choice, without having to lug a heavy battery to your home. Exide also offers free installation service to ensure a basic maintenance check so you can sidestep faulty connections.
*Warranty T&C applied.