Category Name - Exide Batteries
28 Jan 2020
Battery buying guide for your Hyundai i10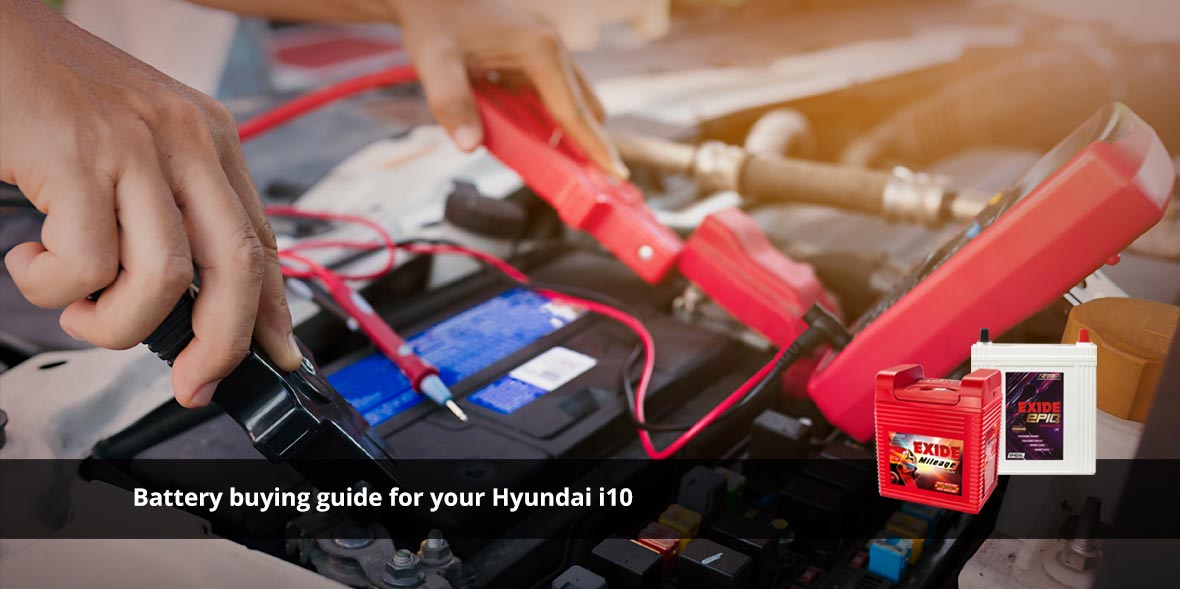 Manufactured since 2007, the Hyundai i10 has been one of the favourite hatchbacks in India for a long time. Initially launched as a five-door body style, the model underwent several facelifts and is now available as Grand i10 variants - the 'Grand' signifying slightly larger version of the primary model.
Now whether you own the basic i10 model or the upgraded Grand version, waiting for an existing battery to die out isn't a good time to go shopping for a new Hyundai i10 car battery. Halting mid-journey due to a dead battery or being unable to start your car when in a hurry can be a real hassle. Even if you know about Exide's emergency on-road assistance called Exide Batmobile, it's advisable to stay prepared beforehand in order to avoid such sudden circumstances. To assist you further, here are a few tips for getting the best deal that can help you when you go shopping for a new Hyundai i10 car battery:
Keep an eye out for dying battery signs - Try to be careful about your battery's maintenance and keep a track of the time you have been using the battery. If you have been using the same for a long time and the car is showing signs of a dying battery, like flickering lights or taking time to start, you'll realise it's time to go battery shopping soon.
Test batteries periodically - Routine maintenance of a car should also include a quick check of its battery health. This is especially important if you're planning for a lengthy ride or a long vacation with your vehicle.
Ensure a proper fit - You can't pick just any random battery for your Hyundai i10. Check your owner's manual to know about the right size and dimensions of your car battery before you purchase a replacement. Also, if you're not too sure about it yourself, get the replacement battery installed by a qualified technician to ensure it gets placed properly in the car with the terminal locations and electrical connections in order.
Recycle your old battery - Batteries can be dangerous for the environment if not properly discarded. Recycling old batteries is recommended as it does away with the hazardous effects of lead poisoning from the batteries.
Buy one that comes with warranty - Compare warranties that come along with car batteries for that added peace of mind in case of unforeseen technical failures. Try to avoid putting too much pressure on your Hyundai i10 car battery like high-end car audio or prolonged duration of air-conditioning usage to ensure optimum performance for an extended battery life.