Category Name - Exide Batteries
27 Jun 2020
Ensure optimum power for your Yamaha R15 with Exide two-wheeler batteries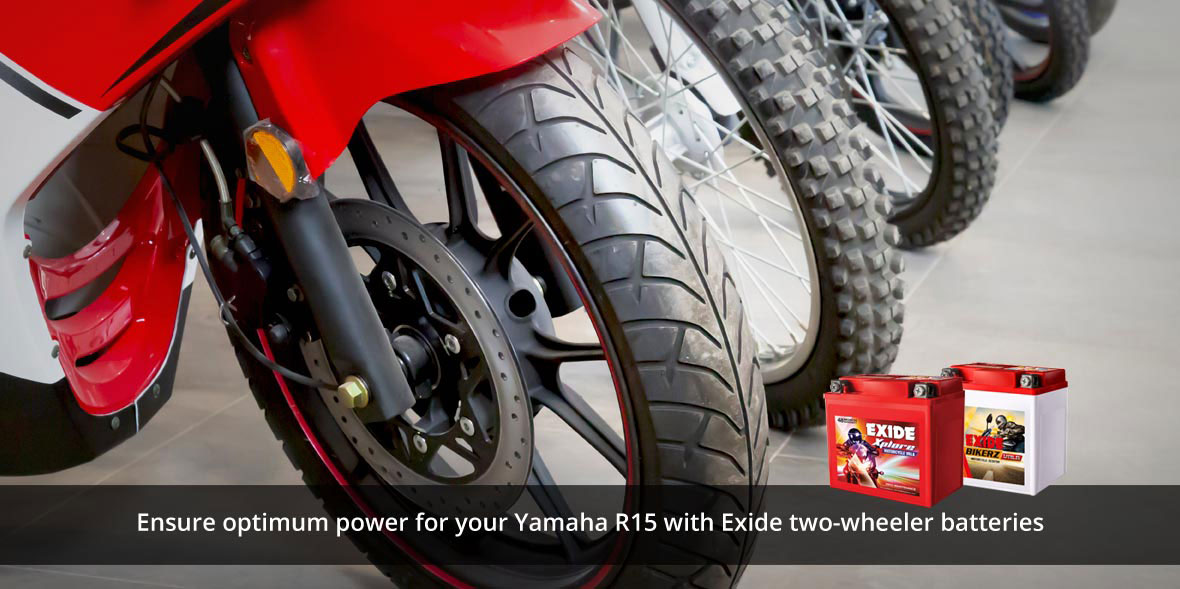 Stunning design with track-bike inspired looks, that's what you get when you choose a Yamaha R15 bike. A thrilling ride with an all-digital console, wide tyres and now with dual channel ABS on the latest version, the YZF-R15 is a two-wheeler that all speed-lovers would like to own.
A powerful bike like that would need an equally powerful battery to deliver its optimum performance. If you are looking for a Yamaha R15 battery that can live up to your performance expectations, Exide batteries can be the ones to go for. Here are the top reasons why batteries from the brand can be your choice:
Brand Assurance - Exide has been serving the industry for decades, and thus offers reliable solutions as well as service.
Quality Products - Exide keeps updating its products with the latest technology and innovation in order to deliver best quality at competitive rates. Batteries from the brand are delivered factory-fresh and can keep your two-wheeler in healthy condition, so you can keep enjoying your YZF-R15 bike for long.
Easy availability - Exide has wide network of dealers and retailers which can add convenience to your battery buying experience. Moreover, the brand has a customer portal to enable easy purchase of your Yamaha R15 battery online. You can also call them up at 1800-103-5454 to place your order.
Free delivery and installation - Exide offers the benefits of free battery delivery and service free installation at a location of your choice, so you don't have to run around to get your battery replaced.
Paperless Warranty - Exide offers product warranty with almost all its products for that additional assurance of quality and brand promise. Hassle-free warranty experience with Exide through online battery registration ensures you can avail your battery details anywhere at any time.
Exide has an impressive range of affordable battery options to choose from when it comes to two-wheelers. For the Yamaha R15, the available options are enlisted below:
Exide Xplore (XLTZ5) - Factory charged sealed batteries powered by Lead-Calcium technology. These batteries are durable and their AGM construction lends them superior cranking power and better resistance to vibration, making this range the most reliable among the available market options.
Exide Bikerz VRLA (BVTZ5) - Super-sealed batteries for a maintenance-free experience. Powered to suit Indian riding conditions, these batteries are leak-proofed and conforms to Japanese Standard JIS D5302.