Category Name - Exide Batteries
23 Nov 2018
Exide bike batteries are best suited to Hero Glamour bikes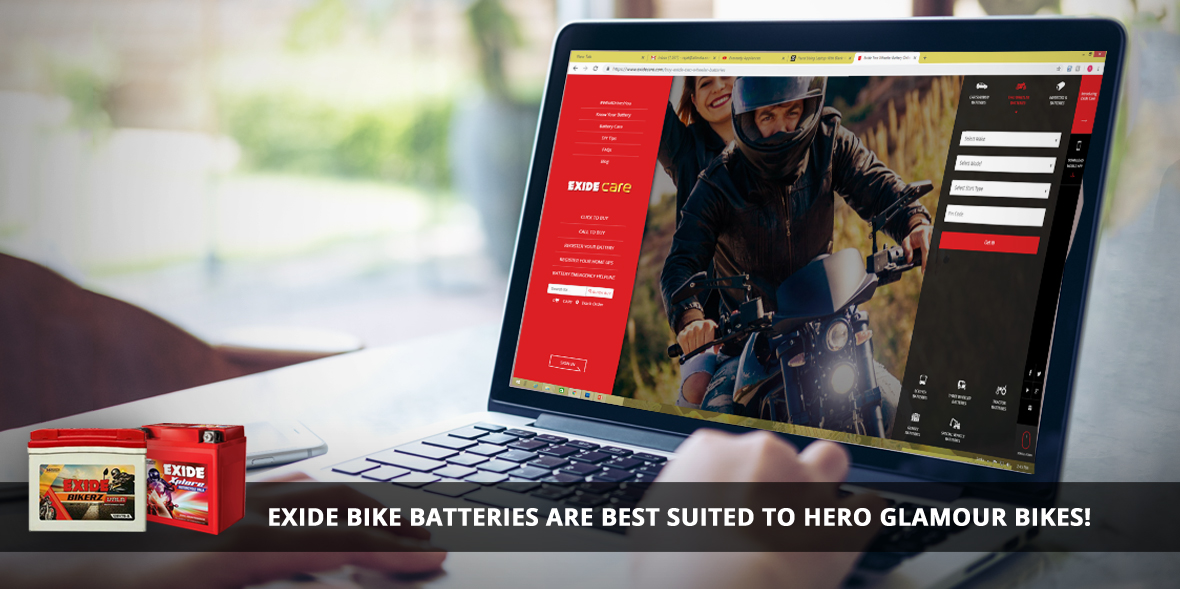 Bikes or two-wheelers are a basic necessity for everyday commuting, especially in India. Two wheelers are well-suited to choked traffic conditions, meandering lanes and narrow roads prevalent in the country. In fact, bikes are also compatible for pleasure trips. This is where Hero Glamour comes into play being an all-purpose bike. But like any other vehicle, the bike needs a robust and technologically advanced battery that aids to its smooth functioning without any hassle. This is a major prerequisite. This precondition is fulfilled by Exide bike batteries. Exide's two-wheeler batteries are manufactured with the state-of-the-art technologies and designs to power the bikes with a quick start and offer smooth rides across all terrains. Moreover, every Exide two wheeler battery in India comes at a price that is fit for everyone's pocket with an option of purchase the batteries online.
Exide's bike batteries are designed for the new generation, manufactured with the modern VRLA and world-class calcium effects technology and compliant to Japanese standard JIS D5302. The company is rapidly moving ahead to capture the market for two wheeler batteries, as it manufactures and supplies bike batteries to a maximum number of bike manufacturers in India. The range of bike batteries offered by Exide for various variants of Hero Glamour are as follows -
Exide has a strong network of retail outlets, however today, customers aim to avoid visits to the physical stores. So, the company has a very comprehensive online battery buying facility which offers not only a range of bike batteries but also many free services. So, if customers buy Hero Glamour bike battery online at best price from Exide, then they are also treated with many free and additional services which make their online battery buying experience memorable.
Services enjoyed by Exide Battery consumers include-
Availability of genuine products.
The two-wheeler battery is delivered free of cost at the doorstep of the customer.
A specialized motorbike battery technician will install the bike battery completely free of cost.
The consumers can also enjoy the comfort of zero-documentation on the warranty of their battery. They do not require to produce warranty card or cash memo at the time of any warranty claim. This specific zero-documentation on the warranty of the battery solution is basically a quick and hassle-free service.
An Exide customer can also avail the emergency battery service, Exide BATMOBILE. It is an on-road emergency solution for any car with a battery issue. It is a free battery service and can be availed, anytime, anywhere. Interested customers just need to dial the toll-free number -1800-103-5454.
So, buy Hero Glamour bike battery from Exide online at best price and set off on smooth and easy journeys!