Category Name - Exide Batteries
22 Feb 2020
Fundamentals of using your Hyundai i20 car battery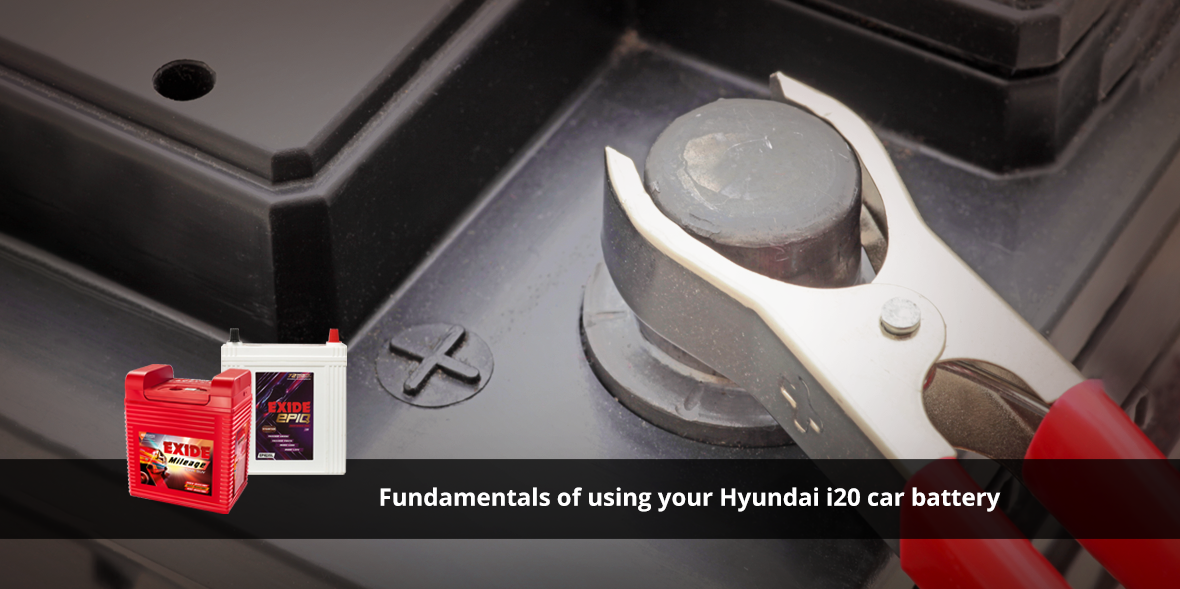 Most car owners fail to identify the time for battery replacements for their four-wheelers, especially if the vehicle is not regularly used. Though some might be aware of the battery capacity being directly related to the vehicle runtime; most are unable to keep track of it. Issues related to batteries only get noticed when the car starts malfunctioning due to battery failures. Though each car battery is custom designed for dependable performance by the manufacturers, here are a few fundamentals to remember if you want to keep your Hyundai i20 car battery in good shape:
Storage – Storing your Hyundai i20 car battery properly, when not in use, is recommended to ensure maximum performance. Batteries should be kept in dry and cool places – ideally at room temperature to ensure minimal discharge or damage.
Brand – Buying replacement four-wheeler batteries from reputed battery manufacturer is recommended to ensure economy in the long run. Locally sourced batteries for your Hyundai car might serve the purpose for the time being, but might not guarantee durability or reliable performance, which in turn will prove costly for you.
Maintenance – Batteries should be charged at intervals to make sure they keep up with their performance and doesn't die out on you suddenly. Also, your car's electrical system should be inspected periodically including the regulator voltage setting, terminal corrosion etc., to prevent battery damage.
Careful Handling – Maintenance-free or not, all four-wheeler batteries need careful handling to avoid spillage or damage and to prevent hazards. Even dead batteries should be disposed with care to prevent lead pollution.
In case you end up with a non-responsive battery, try to remember how long has it been since you got the car or the replacement battery. Get it checked by a technician first to confirm if your Hyundai i20 car battery is just discharged or you would need a new battery for your ride. For the best replacement battery with desirable features and affordable pricing, you can check availability on the Exide Care website, since Exide is one of the most reputable battery manufacturers in India and has been serving the industry for over six decades.