Category Name - Exide Batteries
30 Dec 2019
Keep it covered - Winter precautions for your Hero Splendor bike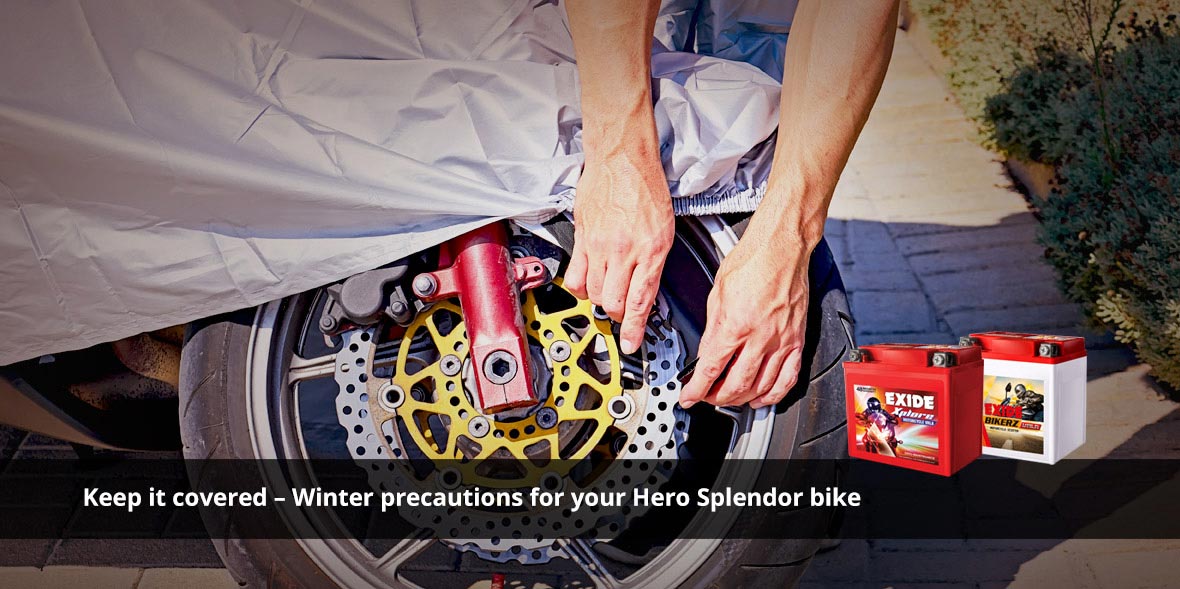 Easy-to-park and easier to glide through heavy traffic zones - These two reasons make bikes one of the favoured transport companions for the Indian population. Especially useful if picked for regular commute, the Hero Splendor bike is no exception when it comes to convenience on-the-road. Besides featuring stylish alloy wheels, sporty tail light, wide seat promising comfort and digitized consoles, the Splendor range is also sturdy and affordable enough to be a hit with people looking for an economical two-wheeler for daily use.
With winter being almost here, no matter how sturdy your two-wheeler is, it would need some special looking after. For durable performance of your Hero Splendor during the cold months of the year, here is a list of precautions you can take note of:
Check tyre condition - Cold weather is likely to affect the tyres and tyre pressure. Keep an eye out on the tyre pressure, especially before rides, to avoid undue wearing and overheating of the tyres due to increased friction on-road.
Battery Health checkups - Low temperatures can affect your Hero Splendor's battery strength. As oil tends to thicken and your bike engine's internal components might also drag during the winters, the battery might need to strain itself to awaken the motor for the start. Regular checkups are thus advised to ensure your battery stays in shape, so you can drive without worrying about a breakdown.
In case you have been using the battery for long and would need a replacement, you can buy Hero Splendor bike battery from the Exide. Being an industry expert for years, the brand can assure you of product performance and durability. Besides that, buying a Hero Splendor bike battery from Exide can also offer you the convenience of ordering online on their official website. At www.exidecare.com, you can check out the battery variants, compare options and then choose the one suitable for your Hero Splendor model based on specifications, warranty coverage and pricing.
Keep the chain lubricated - Being a dry season, winters attract more dust and can turn the chains dry for your bike. Rather than applying lube after long intervals, the season demands that you lubricate the bike chains frequently and generously for a smooth riding experience.
Clean at intervals - Grease the battery terminals, use anti-corrosion products to coat the vulnerable bike parts and keep your bike covered to ensure optimum performance from your Hero Splendor.
Change oil, if required - The engine oil, if old, can damage the motor. It's advisable to get the old oil replaced with a good quality engine oil before the winter sets in. You can even enquire about the availability of certain additives for positive benefits.
Choose quality lighting options - Clean you bike exteriors carefully and especially ensure that the lights are not covered with dirt.  You can also adjust headlights for both the dip and the main beam to ensure safety on-the-road. If you intend to add a fog light or LED indicators for the winter rides, make sure they shine bright and are of good quality to serve the purpose.