Category Name - Exide Batteries
29 Jun 2020
Looking for a suitable Honda Shine battery? Trust Exide to serve you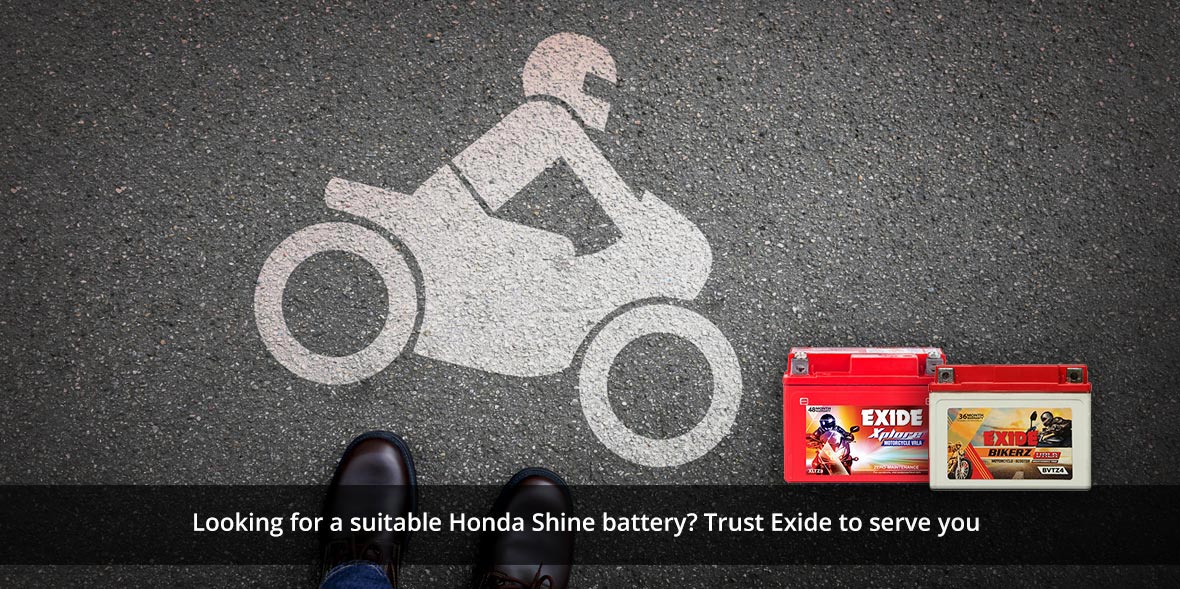 One of the best-selling 125cc models from the Japanese manufacturer Honda, the Shine is designed to deliver smooth rides at high speed. Being ideal for city rides, Shine has grown to be a very popular commuter bike in India and the model recently received upgrades to comply with BS6 emissions. Also, to keep up with the latest tech upgrades for two-wheelers, the bike features tubeless tyres, optional disc brakes, adjustable rear shockers, and promises riding comfort amid busy city traffic.
Now, whether you're using a Honda Shine for work or for personal use, batteries for the bike is one thing you would eventually need. Getting the right Honda Shine battery is a big deal since size, specifications, power, build and several other factors affect battery performance under varying riding conditions. From the Exide range of batteries, here's a list of batteries that are best suited for Honda Shine models:
Exide Xplore (XLTZ3) - Freshly manufactured and factory charged batteries sealed with VRLA technology for easy maintenance. This variant ensures low battery discharge due to lead-calcium technology and features Unique Flame Arrestor for safety benefits. It also promises superior cranking power, better stability and vibration resistance.

Exide Bikerz VRLA (BVTZ4) - Affordable VRLA battery that are super-sealed to guarantee leak-proofing, thus being maintenance-free and durable. It comes with an Exide Paperless Warranty which you can initiate with a simple online battery registration.
Exide batteries are built to suit Indian riding conditions, keeping in mind the weather, terrains and the type of power that specific bike models require to perform to their fullest. Equipped with the latest technology and designed to deliver, Honda Shine batteries from the brand comes at a price to fit your pocket.
Exide's online portal offers you the advantage of checking out all of its battery variants and their respective features, which consequently makes it easier to buy a battery. You can simply scan through the available battery options on the site, once you select the make and model of your vehicle, whether it's a two-wheeler or a four-wheeled ride. Based on that, you can pick the one suitable for your ride and place your order online. If you still need to confirm the battery type or availability or get stuck along the way, you can simply dial 1800-103-5454 for assistance.