Category Name - Exide Batteries
19 Sep 2019
Monsoon Auto Care Tips - How can you keep your i10 car battery safe in the rains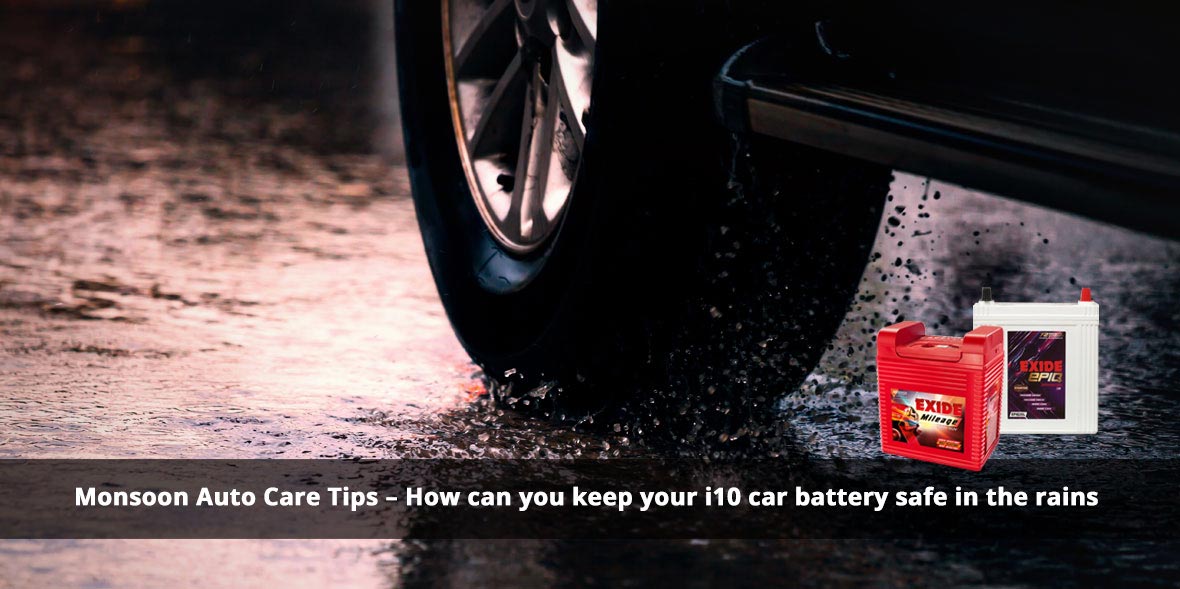 Monsoons bring sighs of relief after the sweltering summers in India. As you look forward to those long drives in your i10 to enjoy the soothing weather and the rains, your car has to survive the puddles, dirt and rusting issues. The way you organise yourself to brace the rains and still be on the move with umbrellas and raincoats, your i10 car needs similar protection too.
Rainy season can take a toll on your i10's electronic circuit, especially on the battery. As you end up using the wipers, headlights and air-conditioning more during the season, your battery ends up supplying more power than usual. To keep your i10 car battery safe during the season, here are a few precautions and tips you need to keep in mind:
Ensure the battery is securely placed - Whether you're using the OEM battery for your i10 or have replaced it with a new one, make sure the battery is properly placed and doesn't shake around while you drive. Loosely placed batteries can cause damage to other components of the engine and that might lead to other hazards on the road. If you're getting a new car battery for your i10, it's advisable to check the battery manual for the size and specifications of the battery first, in order to make sure it fits snugly in your car's battery compartment.
Keep it clean - Make sure the battery terminals are clean to ensure smooth flow of charge. White powdery accumulation on the terminals might indicate corrosion which is sure to affect your i10's performance. Try to clean at regular intervals for proper maintenance, and especially during the monsoons to do away with grease, dirt and oxidation and prevent build-ups.
Check the electrical wiring - It's no surprise that water and electrics don't get along well. Poorly maintained wiring, combined with water leaks or battery spills can be a hazardous combination resulting in short circuits. It's advisable to check the electrical wiring regularly to avoid such accidents or battery failures during the monsoons.
Get a pre-monsoon servicing done - DIY tips are handy, but sending your car in for professional care is always the best bet for all-round maintenance of the vehicle. Specialised servicing can be scheduled before the monsoons to ensure less water spillage into the battery compartment and to look into most of the above mentioned precautionary measures.
Replace the battery, if required - It's better to replace your existing i10 car battery, especially if it's stuttering and you have been using it for too long and suspect it's nearing end of life. You can also change it if you see corrosion, spillage or any such indication which might indicate that it can be hazardous in the monsoons. Consult an auto technician to check on the status of your battery if you're not too sure of it yourself.
For new car batteries, trust on a reputed brand like Exide to be certain of quality deliverance and uninterrupted vehicle performance. Check out the Exide Care website to compare between their multiple battery variants and get your i10 car battery delivered at your doorstep, at the best price.