Category Name - Exide Batteries
30 Oct 2019
Old car or new-gen - Batteries for Alto K10 is best picked from Exide Care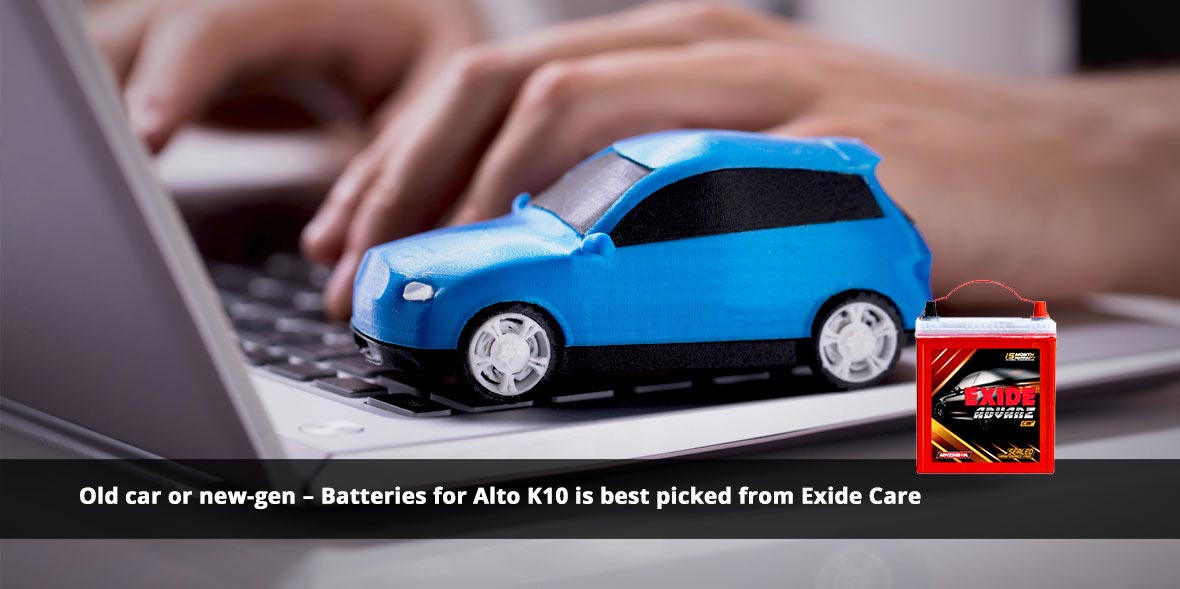 Alto K10 was one of the first entry-level cars by Maruti Suzuki in India. Launched in August 2010, the K10 is considered as the predecessor of Alto 800. It came equipped with an Automated Manual Transmission (AMT) gearbox that facilitated convenient driving, and thus quickly turned into a favourite for people who were looking for a car to steer smoothly through the city traffic. Following a facelift to meet the updated emission standards in the country, the new-gen Alto K10 features innovative design for the hatchback along with additional safety aspects like airbags, ABS and more.
Whether you own an old-generation Alto K10 or one of the new variants, for the replacement battery you can always rely on Exide Industries. Being a reliable power-storage solution provider for years, Exide can offer you multiple options for your Alto K10 car battery requirements, all of which you can check out online at their official website - https://www.exidecare.com
If you need more reasons for buying your Alto K10 car battery online, here are a few you can consider:
Convenience - Convenient as you can choose, order and pay online, convenient as you don't need to manually visit location and carry heavy batteries home, convenient as the ordered product gets delivered to your doorstep directly.
Free installation - Exide sends in technicians to ensure your Alto K10 car battery is properly fitted to the terminals of your vehicle during installation and that the connections are in order, so you can get the optimum performance from your car.
Durable performance - Batteries from reputed manufacturers like Exide Care can deliver quality performance for a long time. Besides being affordable, Alto K10 car battery from Exide can offer you the brand assurance and warranty protection to cover you for unforeseen circumstances.
Emergency on-road assistance - Exide also offers on-road assistance for any car having battery issues. The 24*7 free service can reach out across 90 locations for reliable backing during emergence battery failures. Keeping their services customer-oriented, Exide also doesn't discriminate between cars using Exide batteries or not, and reaches out to anyone seeking help.