Category Name - Exide Batteries
30 Jan 2020
Smart battery care tips to keep your Hero Hunk running for long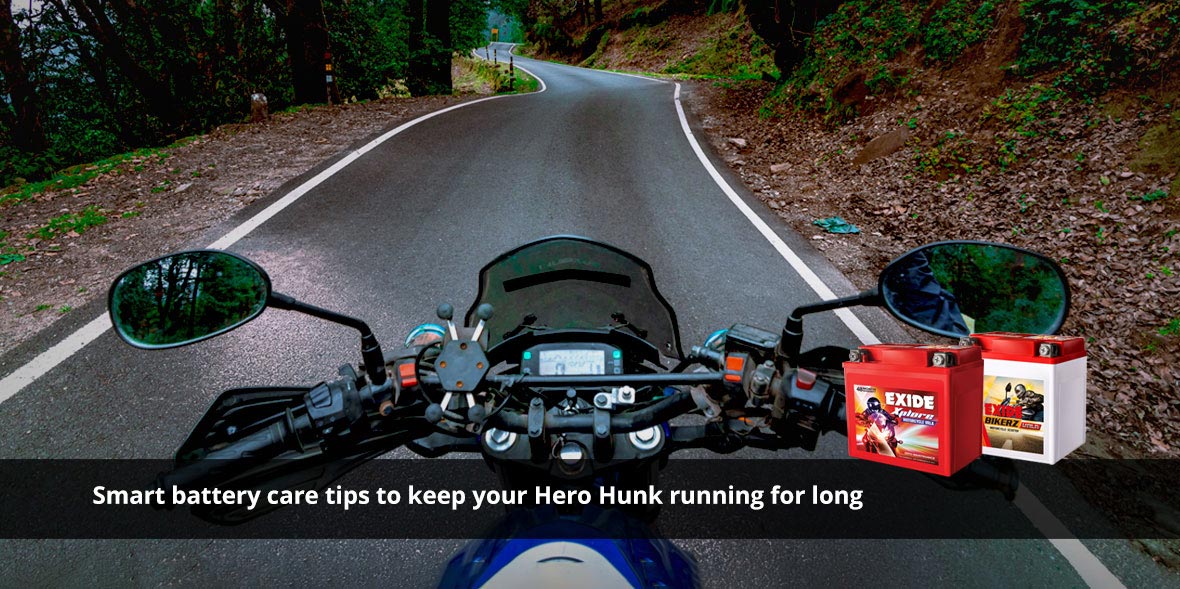 Periodic Checking. Periodic Checking. Periodic Checking - This is something you can't do without if you want optimum performance from your Hero Hunk. Even if you're a pro-biker and are aware of multiple do-it-yourself hacks, a thorough check-up at a professional servicing centre once-in-a-while is recommended. As batteries are like the heart of your ride, it should be specifically taken care of, when you go for a bike maintenance service. To add to your convenience, here are a few battery care tips that you can follow:
Check battery placement - While replacing battery in your motorcycle, ensure that the battery is appropriately connected to the electricals in your Hero Hunk and is firmly secured with the cable clamps and lead wire in place.
Keep it clean - Try to keep your Hero Hunk battery dry and clean. To avoid rust or corrosion, you can clean the terminals at regular intervals with a dry cloth and follow it up with petroleum jelly on the cable clamps and terminals for sufficient lubrication.
Try not to overload - Whether for utility purposes or for enhancing the looks, try to avoid over-accessorising your Hero Hunk motorcycle as that is likely to take a toll on the battery. Installing high capacity lights, new bulbs, LEDs, and more, at the same time, is not advisable as it can drain out the battery juices quicker than usual.
Disconnect when idle - If you don't use your ride often or know you might not be taking the motorcycle out anytime soon, try to disconnect the battery to cut down on power loss. Also, it's advisable to store your bike and battery in a protected, dry and well-ventilated place to ensure durable performance.
Do your research before buying - If you're looking for a replacement, try to buy Hunk bike battery from a reputed brand rather buying any fitting battery at random. Besides affordability, you also need to compare options and check for battery specifications, AH Rating, warranty coverage and manufacturing date to ensure you get the best deal for the purchase.
Taking good care of your Hunk bike battery can undoubtedly increase its lifetime. Whether you use an old lead acid battery or a sealed maintenance-free one, you should be careful about the time you keep it unused and recharge it before use to avoid quality deterioration. Also, depending on the usage, batteries from reputed brands like Exide can assure you of durable performance and long life; which makes their portal - Exide Care, a good option for you to buy Hunk bike battery online.