Category Name - Exide Batteries
30 Aug 2019
Tips for the Monsoons - How to keep your motorcycle monsoon-ready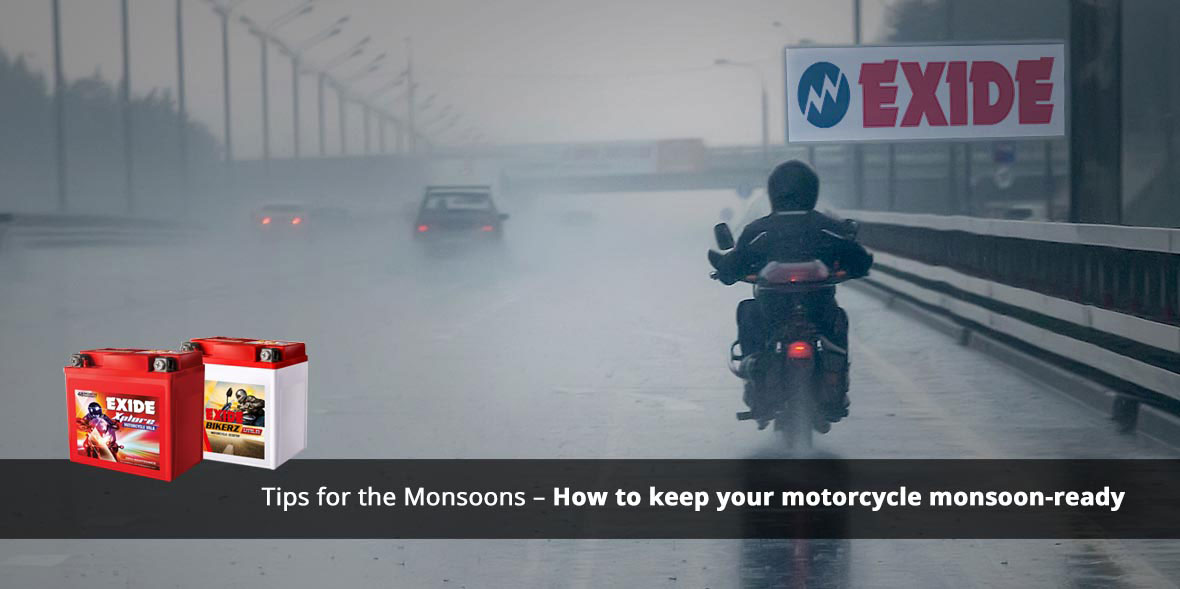 Monsoons are great for bike rides. The pleasant weather calls out to every adventure lover for an occasional detour or to have a long trip on two-wheelers. However, this is the season when your bike especially needs regular maintenance, whether you use it for regular commute or for adventurous trips. To keep riding uninterrupted during the monsoons, here are a few pointers you can keep in mind:
Check tyre conditions - For safe travel on roads, check if you need tyre replacements. Roads get slippery during the monsoons and tyres without grip have more chances of failing in the wet season.
Drive slow - During the rains, your tyres will have low traction. To have better control over your vehicle, it's advisable to maintain optimal tyre pressure, and avoid any sudden actions on the motorcycle or driving at high speed.
Water-proofing - Most bikes are water-proofed these days, whether it has metal body or fibre body. However, to keep your bikes protected during monsoons, get Teflon coating on the panels as it will prevent the panels from rusting. Also, to save the main metal body frames, you can opt for an anti-rust protection layer to make it durable. As DIY measures, you can simply oil the chains, hinges, and levers to keep those in good working order.
Maintain the brakes - The brakes for the motorcycle should be checked and serviced regularly for road safety. See if the brake pads need repair, if the cables need to be replaced and the brake fluid needs to be topped up before the monsoons, to ensure you have a smooth riding experience.
Buy a battery in time - For prolonged performance, it's advisable to get a freshly manufactured motorcycle battery from a reputed brand like Exide Care. You can even buy motorcycle battery online from their website and get it delivered directly to your home, which can help you avoid the hassle of manually visiting the store in the rains and hauling the battery back home. It's advisable to get a new battery in time, especially if the existing battery is an old one and you have been noticing telltale signs of a failing battery like weak or non-functioning lights and horn, faint click when starter button is pushed or slow start.
Use parking cover - Always look for sheltered parking for your motorcycle to extend its performance and prevent rain damage to both external and internal parts. In case you don't have a shed for regular parking, it's advisable to buy a rain cover for protecting your motorcycle from the showers. You can even get fitted rain-covers for your two-wheeler for the times when you are commuting in the rains.
Clean frequently - Monsoons mean dirt, and that necessitates more frequent cleaning for the bikes. Apart from the tyres, chains and body of the vehicle, it's also recommended that you clean up the air filters and the headlights for smooth and safe rides. Since mud deposition increases the wear and tear of your vehicle, regular servicing is necessary for your bike's durable performance during the monsoons. Dirt build-ups can be harmful for the bike batteries too. Keeping it clean will allow proper ventilation for the batteries and prevent malfunctions or mishaps.
Use your bike - Try to use your bike frequently. If you don't like riding in the rains much, try to take your bike out at least once or twice in a week, when it's dry, to keep it in working condition.
For any issues related to the battery on your motorcycle, you can visit https://www.exidecare.com/. Check out their battery care tips and DIY recommendations to keep your bike running smoothly, even during the monsoons. In case you're fearing a failing battery, check out the Exide Range of batteries and buy your motorcycle battery online from their website for assured performance at affordable pricing.