Category Name - Exide Batteries
27 Sep 2019
What to do when the bike battery dies on your Hero Passion Pro?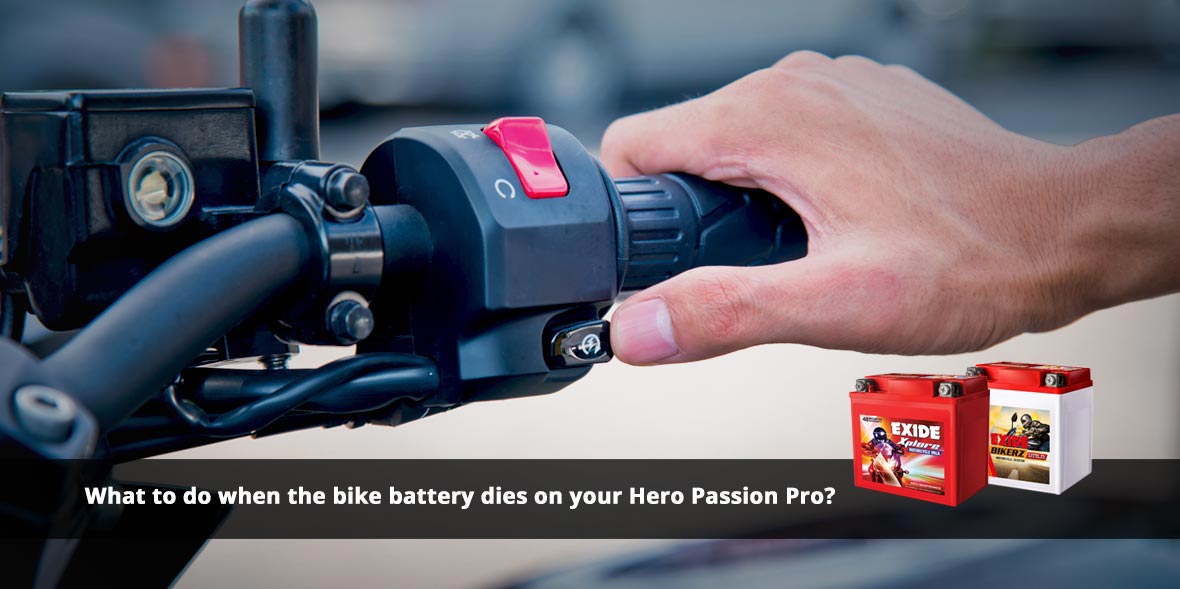 Motorcycle batteries need regular usage to stay running, and Hero Passion Pro is no different. Often, when you don't use your motorcycle for long, the battery might start failing you. So what can you do when the bike battery starts dying on your Hero Passion Pro? Here are a few steps we have enlisted for your benefit:
Identify the signs - First of all, when you see your bike is struggling to start or the headlights are dimmed, you need to get the battery checked. If you have been using it too long, you would know if a replacement is required. Just to double check on that, you can take your Hero Passion Pro bike battery to a local motorcycle shop to have it charged and tested, following which you'll be able to determine if a new battery is required.
Clean the terminals - If you are a bike-pro or a DIY person, you can try cleaning the battery terminals on your own. Corrosion or residue accumulation might prevent battery charge from flowing into the bike's electricals. Try clearing it up with a wire brush or a clean dry cloth and then reconnect the terminals to see if the battery works fine.
Get a replacement - Buying a replacement battery is evidently the safest bet if you have a drained or stuttering battery, just to avoid the hassle of a battery breakdown in the middle of a road. You can get a new Hero Passion Pro bike battery easily from trusted battery manufacturers like Exide Care after checking their battery variants, warranty offerings, price range and more. When buying a new battery, try finding the manual for your bike to know about the battery specifications or you can use your old battery as reference.
Identifying the right type of battery for your motorbike is essential to ensure right fit into the battery compartment and durable performance. You can try to extend battery life for your Hero Passion Pro by following a few simple rules:
By not leaving your bike unattended for too long and taking it out for rides at least once in two weeks.
Going for long distance rides, and not short trips.
Avoid attaching too many bike accessories like lights or alarms, as it causes unnecessary strain on the power storage.