Category Name - Exide Batteries
30 May 2020
When is the time to buy a new Swift Dzire car battery?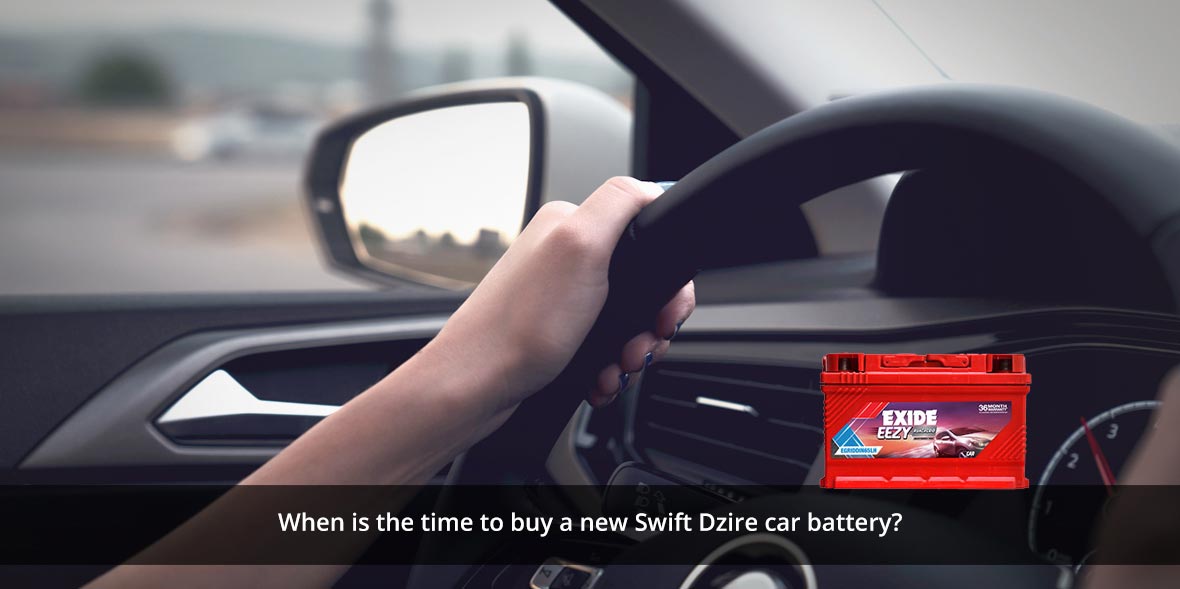 The Swift Dzire, an entry-level sedan from the automobile manufacturer Maruti Suzuki, was initially developed as a variation of the Suzuki Swift hatchback around 2008. Owing to its impactful brand recall, the 'Swift' was later dropped from the name and it's now popularly known as just Dzire. Considered one of the most dependable mid-sized cars, the Dzire is a special favourite in the domestic market. And to continue with its dependable performance, every Dzire car needs a dependable battery.
So, how do you know when it's time to buy a new Swift Dzire car battery? Here are some indicators which might help you:
When you have been using it for too long - Whether it's the OEM provided battery that came with your Dzire or a replacement one that you bought, every battery has its own life span. Unless you're too unaware about the purchase, you would be able to identify approximately when the battery is likely to expire. You can start exploring battery options in the market by that time, to get the best deal and replace the car battery without much hassle.
When it takes too long to start - Slow engine starts are one of the most prominent indicators of diminished battery power. It indicates that you might start your search for a replacement battery soon, as eventually the engine will just crank but not start when it's unable to get the required power from existing battery.
When the headlights aren't that bright - Dimmed or flickering headlights might be the other signs that you can keep an eye out for.  If your car headlights, interior lights or even the dashboard lights aren't as bright as usual, it's time you get your battery power checked.
Batteries are like the heart of your Dzire car. The best bet is to take your vehicle to a service technician for regular checkups to determine battery health. Keeping a regular track of the performance and health of your battery will help you stay prepared, so that sudden battery failures don't surprise you at odd times.
Once you realise that your car battery might be low on life-power, you can immediately start looking to buy a Swift Dzire car battery. This way you'll have the time to check out the Exide car batteries online at www.exidecare.com and then compare options before buying one from the brand, for guaranteed quality, performance and prompt delivery.