Category Name - Exide Batteries
29 Jan 2020
Why buy Exide batteries for Toyota Innova - 6 reasons to persuade you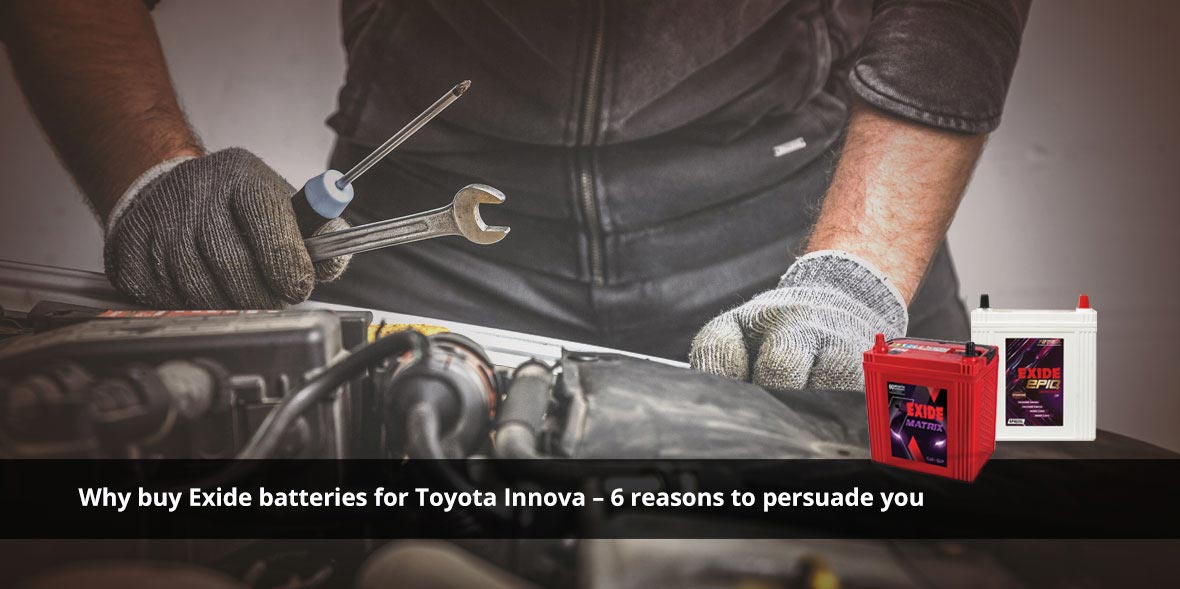 Running on the streets since 2004, the Toyota Innova is a compact multi-purpose vehicle (MPV) manufactured by Japanese auto brand Toyota. The MPV is big on the inside, reliable to the core, fuel-efficient and can be driven over most terrains, which make it quite a hit with the people. Following further modifications and facelifts by the manufacturer, the four-wheeler is currently available with premium features, luxurious interiors, and trims offering high levels of comfort.
Innova is pretty easy to maintain, thanks to its high resale value in the market which ensures easy availability and reasonable pricing for its spare parts. But over the course of its life, the car would necessitate battery replacements multiple times and that is when you can depend on a steady brand like Exide to help you.
Reasons to buy your Innova car battery from Exide
Extensive Variety - Exide is a reputed battery manufacturer that has been serving packaged power solutions across industries for years. The brand has a lot of battery variants on offer which can help you choose better for your Innova, based on the battery specifications, power backup, coverage, AH rating, dealer availability and more.
Brand Assurance - Exide is a renowned battery brand that has garnered trust over the years with unfaltering service and support. Whenever you buy your Innova car battery from the brand, you can be certain about its quality and performance.
Online Purchase - Exide has an online portal called Exide Care where you can choose your battery conveniently after checking out their range of products. The ease of online ordering can not only save you time, but also the manual effort of visiting the dealer or retailer locations, carrying the heavy battery home.
Doorstep delivery and Service-free installation - The brand offers the advantage of delivery at a location of your choice and free installation services by reputed technicians if you buy your Innova car battery from Exide Care. These add-on facilities can be a major draw if you want a smooth battery buying experience.
Hassle-free Warranty - Exide offers warranty protection for its batteries which can assure you about the quality of the product. Following a simple online battery registration, the brand allows you to view your battery details anytime-anywhere, which also enables you to utilise your warranty protection with ease.
Emergency Roadside Assistance - Exide has a battery emergency helpline which can be used during any car battery breakdowns on the road. Termed as Exide Batmobile, this reliable service is available across the country in over many locations, and can even be accessed if you don't use an Exide battery.