Category Name - Exide Batteries
27 Apr 2020
Why Exide can be your friend-in-need for buying CBZ Xtreme bike batteries online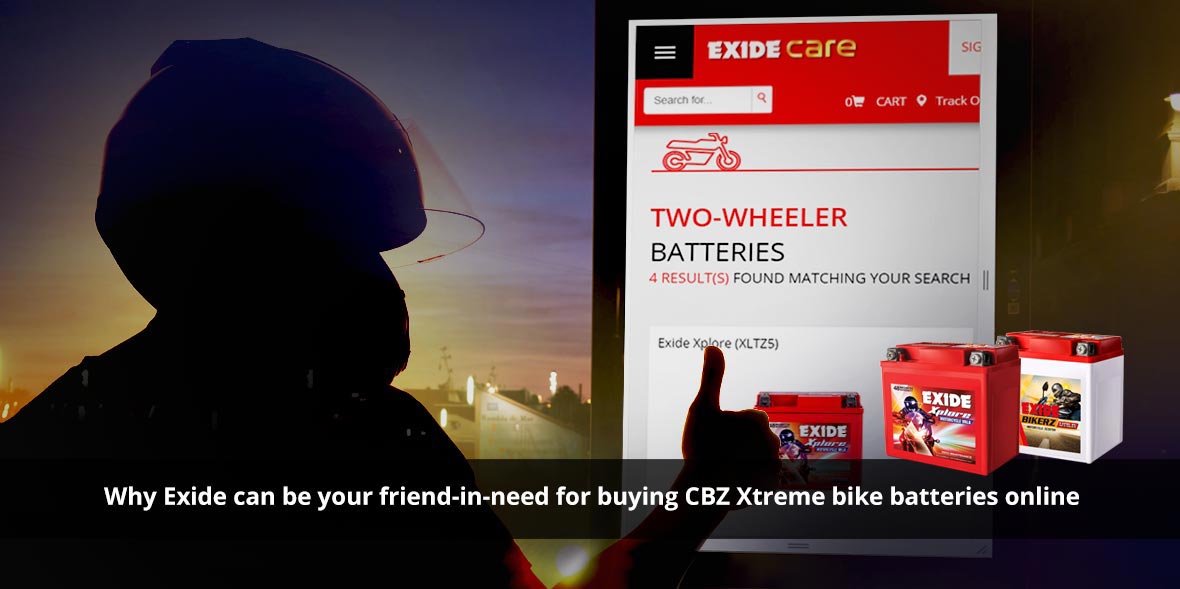 CBZ Xtreme is the 150cc successor to the very popular Hero Honda CBZ and was launched to the Indian markets in 2006. Offering a perfect mix of power, control and styling, the CBZ Xtreme was targeted at the youth and had garnered a huge fan base. Later, following its split with Honda, Hero MotoCorp rebranded the CBZ Xtreme to just Xtreme.
To keep up with its promised performance, the CBZ bikes need powerful batteries. Exide can come to your rescue if you're looking for replacement batteries as the brand offers battery options for both the CBZ variants. Besides the promise of quality, here are a few other reasons you can choose Exide bike batteries:
Get it online - To buy your CBZ Xtreme bike battery online, you can visit Exide's E-shop at www.exidecare.com. Besides the brand assurance that comes with every Exide battery, an online order can help you avoid the hassles of visiting a store and hauling your battery home.


Pick and choose - Being a reputed battery manufacturer for decades, Exide has the latest technology packaged into its products. You can check out their entire range of battery options on the Exide Care website which will help you compare options based on pricing, specifications, features and more.


Hassle-free warranty - Warranty protection is another quality assurance that Exide can offer, and the best part is, it's paperless. This means, you can have a simple online battery registration and avail the coverage benefits anytime, anywhere.


Free installation - Once you place your CBZ Xtreme bike battery order online, Exide will deliver the batteries at an address, according to your convenience. Besides doorstep delivery, the brand also sends in an authorised dealer personnel for a free installation service.


Widest dealer network - Exide has been serving multiple industries for decades and has the widest network of retailers and dealers spread across the country. Being a customer oriented brand, Exide authorised dealers are trained to address customer queries and offer assistance at every step of the buying process.