Category Name - Emergency Battery Services
29 Aug 2020
For reliable roadside battery assistance, reach out to Exide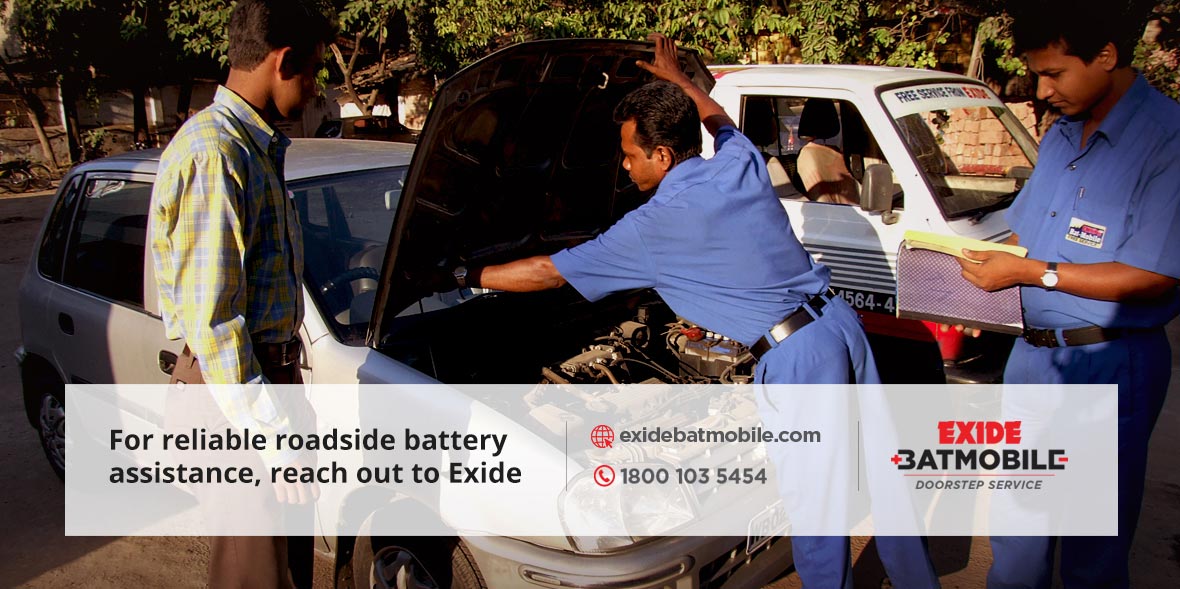 Got stuck in the middle of the road as your car refuses to start? - Don't worry! Exide Batmobile is just a call away to help you out with any battery issue on road.
Exide offers roadside battery assistance and reaches out when you are unable to drive your car due to a dead battery. You can even give us a call when it stutters and you're almost sure that the reason is a battery that ran out of its power.
How to avail this service
Exide Batmobile is reachable across several locations in India1, There are two simple ways to reach out to us for speedy assistance:
1. You can call 1800-103-5454 for help and share details of the battery issue that got you stranded on the road. Our team will note down the details and dispatch experts to reach you for quick roadside battery assistance.
Or
2. Open this link in your browser - exidebatmobile.com and share your location along with the nearest landmark. This ensures that our expert technicians can reach wherever you are, at the earliest.
Simple precautionary steps to avoid sudden battery failures
Sudden battery failures are quite stressful, especially when it happens at an odd hour or amid busy traffic or when you need to reach somewhere within a pre-specified time. We understand that it is unforeseen, but can be avoided if you follow some simple precautionary measures on your own. We have listed a few below for your advantage:
Seek help with qualified service personnel for battery installations, to ensure all wiring and connection setups are in place.
Get your battery health checked at intervals. Check for corrosion and signs of leaks etc.
Don't overload your battery with lots of auto electronics and accessories.
Remember to turn off the headlights and disconnect other electronic gadgets to avoid battery drainage, every time you step out of your vehicle.
Plan your work and number of trips to avoid numerous short drives.
In case you're not using the car regularly, try to start it after every 5-7 days for at least 5 minutes to prevent battery discharge.
Be especially cautious of the signs that an old or dying battery tries to send out, for e.g. dimming headlights, slow starts etc.
1The list of cities and locations where our Exide Batmobile service is available, is listed here